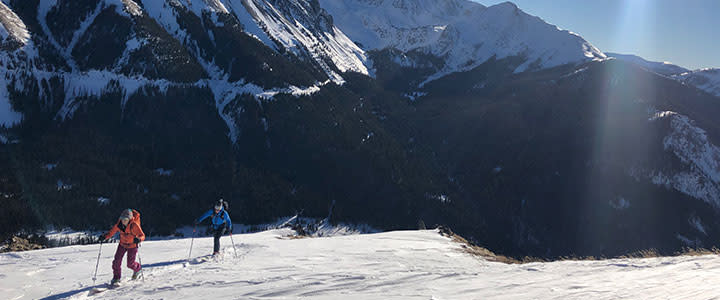 by Kaitlyn Kinshella
In Colorado, when ski towns start to get busier in the winter months, many avid skiers will head to the backcountry in order to fill their powder needs. Anyone who has experienced a quiet tour around Buffalo Pass or Rabbit Ears Pass knows that there is nothing better than skiing away from the crowds. Backcountry skiing is an excellent alternative to resort skiing, with perfect powder for days, bluebird skies, and the serene feeling of remoteness. However, there is also an increased risk that comes with deciding to go "out of bounds". Whether you are new to the backcountry or you have been touring since before Steamboat opened, you should always have these 7 essentials with you no matter where you ski.
1. An Avy 1 Certification
Before even going out to the backcountry, it is necessary to take an Avy 1 class in order to be fully prepared for a potential avalanche. Every year, people who have little experience attempt to travel through avalanche terrain and get caught in deadly slides. By taking an avalanche class, you can increase your knowledge of how to avoid a slide and what to do if you or a friend gets caught in one. Instructors of AIARE courses will teach participants about snow science, safe planning in the backcountry, and condition monitoring using their backcountry access field book. Perhaps most importantly, the course will teach you how to properly check the weather forecast to look for avalanche conditions. The course is normally three days and it is well worth the money because you might save a life. In fact, many experienced skiers won't travel in the backcountry with someone who hasn't gotten an Avy 1, so don't be the weak link in your group. Many mountain towns in Colorado will hold classes at Colorado Mountain College. Educate yourself!
2. BSP
Alongside the Avy 1 certification, a smart backcountry traveler will never go anywhere without his or her beacon, shovel, and probe. It does not matter if you are skiing through the trees or on a 10-degree slope, you should always hope for the best and be prepared for the worst. If an avalanche occurs while traveling through the backcountry, skiers and riders have an average of 15 minutes to save their loved ones. This is where it becomes essential to have the best gear and use it appropriately. Keep in mind that if you are missing any of the three, you will not be prepared to rescue someone in case of an avalanche. Check out a local ski store, such as Ski Haus in Steamboat Springs to gear up.
3. A Map and Compass
These days, many people use their phones as GPS devices in order to know where they are and where they want to go. Apps like GAIA make it easy to download a topographic map before a trip and navigate along the way. However, having a physical map is always the best option in order to ensure proper route finding. Some people look at map reading as a dying art, but the truth is that it can be your best friend when safety is your priority. (Plus, maps can be super interesting and a lot of fun to "nerd-out" about!) If you are unfamiliar with reading maps, then going with a guide into the backcountry is a great alternative! Steamboat Powdercats, local snowcat and human-powered backcountry skiing and snowboarding tour operator, takes participants up on Buffalo Pass every day during the winter to enjoy luscious laps of powder using a snowcat as transportation.
4. Snacks
There is nothing more satisfying than rewarding yourself with a Snickers bar (or two) at the top of a hike before you rip it down the mountain. Keeping your body fueled is an essential part of skinning because the cold weather combined with prolonged aerobic exercise can rapidly deplete your energy. Plus, I don't know about you, but I cannot function when I am hangry (hungry+angry). Therefore, I always keep some yummy, high calorie treats in my pack. Being a local of Steamboat Springs, I am a loyal consumer of all Honey Stinger products. Check out their organic chocolate waffles and fruit-flavored energy chews. They are to die for. It is also a good idea to keep one or two things in your pack that you won't be tempted to eat while skiing (like a hefty energy bar). You can use this as an emergency food if you get stuck in the woods for whatever reason.
5. Liquids
Of course, everyone knows to bring water whenever going out to the backcountry (hopefully!). The real question is, where and how does one store the water? On one hand, putting your water in a bladder (such as a Camelbak) can provide easy access so you don't have to constantly take off your gloves and get your water bottle out of your pack. But, as you may have guessed, the small tube can cause the water to freeze. If having your water readily available is important to you, then you should make sure to get an insulated bladder or use warm water in order to prevent freezing. If accessibility isn't a concern for you, you may want to consider checking out a collapsible water bottle so that you can increase space in your pack as you drink your water. I also always bring a Hydro Flask thermos with me full of coffee or hot chocolate, to help me feel warm and cozy as I hike through the snowy forest.
6. Extra Layers
Besides using your snickers bar and hot thermos to keep your body warm, it is important to have a few extra layers in your pack. Layering your clothing is the key to body temperature regulation - too few layers and you could find yourself getting cold, too many layers and your body could sweat (which will also eventually lead to chilliness). In case of an unexpected temperature change or elongated time in the backcountry, I would recommend having a fleece, a puffy, a buff, a hat, and socks stuffed in the bottom of your pack, ready at any moment to provide you with some extra comfort and warmth. In Steamboat, I often turn to Straightline to find my layering needs.
7. An Emergency Kit
When I took my Avy 1 class, the Never Summer Outdoor School guides revealed to me that a seasoned backcountry professional never goes anywhere without a small stuff sack that contains the following essentials: a slope measurer, duct tape, super glue, lip balm, sunscreen, hand warmers, a headlamp, batteries, a pocket knife, a multitool, and parachute cord. Some of the objects have an obvious, specific function (ie: sunscreen), and other objects have a range of (seemingly limitless) possibility in their usefulness (ie: duct tape). So, whether you are blocking the UV rays or repairing a broken ski, know that your emergency kit will always have your back.
If you decide to join those who want to earn their turns, then good for you! You are about to embark on a soul-filling journey consisting of burning calves, gorgeous alpine views, and endless amounts of fresh powder. Remember that all of the aforementioned items are important to a successful, safe backcountry trip. However, perhaps the most "essential" aspect of each item is user knowledge. Know your stuff before you get out there and be prepared for anything, whether it be an actual avalanche or a friend who needs to warm up with some hot chocolate and an extra puffy jacket that you just so happen to have in your pack.
Check out more resources on our Know Before you Go winter recreation pages.