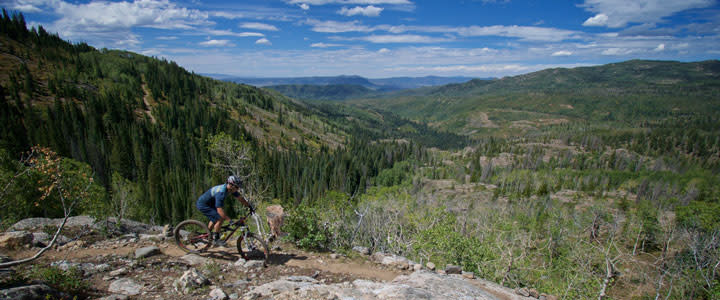 Responsible Bike Riding in Steamboat Springs
---
Love bike riding in Steamboat Springs? So do we! Thanks to a 2A lodging tax passed in 2013, multiple new trails have been built around the city and our surrounding areas. These new trails range from everything to fun, flowy downhills to more technical ones.
Routt County Riders (RCR) is one of our nonprofits that advocates for positive change for cyclists in our area. This week, we chatted with Laraine Martin, Executive Director of RCR, to talk about her favorite ways to hit the trails safely while helping us preserve them.
Hi Laraine! Tell us some of your favorite ways to enjoy our trails?     
Well, for starters, I love to enjoy them from the saddle of a mountain bike! Many of the trails in the area are multi-use and allow for foot travel, bikes, and horseback riding. I do love a good wilderness backpacking hike, but when I'm near town and need to squeeze in a quick workout, I'll be on my bike.
The different trail areas around Steamboat allow for all different types of experiences - dense dark timber on parts of Mad Creek, the bright and fragrant sagebrush on Beall or Ridge, and the ethereal beauty of the aspen groves on Wild Rose or Pioneer are a few of my favorites. And I always, always enjoy the trails with their natural noises around me - no headphones. This is both for my safety (and fellow trail users) and so that I can enjoy Mother Nature's song - or hear a moose rooting around up ahead on the trail!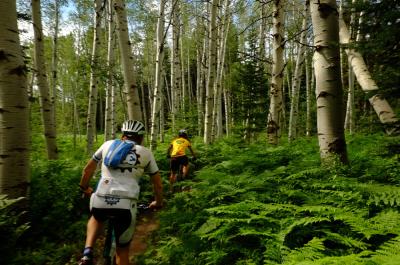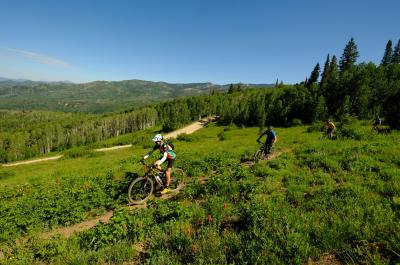 If I'm a first-time rider in our area, what are some must-knows before going on a mountain bike ride?
The first step is safety and preparedness. Before you even leave the trailhead parking lot, put a helmet on your head. Bring all the essentials: water, calories, a multi-tool and tire levers, extra tire inner tubes, and small pump or CO2 cartridge. People out on the trails are friendly and will help you if you are in need, but you might have the whole place to yourself. Beyond that, do a bit of research and get informed about where your bike is or is not allowed on the forest - especially if you are on an e-bike, there are some restrictions. We have lots of different trails for all ability levels, so make sure you are not in over your head with skill level.
Trail etiquette is the key to all trail users enjoying their experience. It starts with all users being friendly and aware of each other's presence. Keep your head up to see folks coming. ALL trail users pull over on the downhill side of the trail for equestrians, well off the trail. Cyclists yield to foot traffic. In practicality, it is common for cyclists and foot users to pull over for the uphill user - that is, the user who is laboring hard in an uphill direction. When in doubt, just pull over and let someone else pass, it's the cool thing to do!
Note: If you don't have all the gear, check out one of our bike shops like Ski and Bike Kare or Ski Haus. They will help set you up and even provide a little demo before you head out.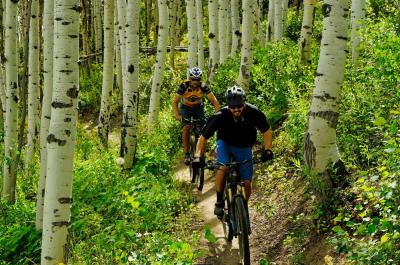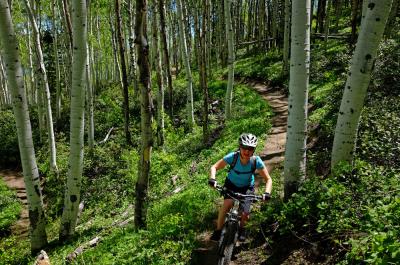 What are the best times to hit the trails to avoid the crowds?
Weekdays! Seriously, you will notice a huge difference if you ride Flash of Gold on a weekday versus Saturday. Also, most folks tend to hit the trails in the morning (10:00 AM on a Saturday is the real "witching hour") - so afternoons can be a bit quieter. Sunset is key if you can time your ride just right. Or if you are into the early alarm, a dawn ride will be best for cool temps and chances to view wildlife.
How do I find information about trail conditions and closures?
If you are on social media, you can join the Routt County Trail Conditions + Community group. Routt County Riders help moderate that one a bit and it's best for real-time updates. If you are not on social media, check the Steamboat Pilot website for any breaking news about certain areas. And when you pull up to a trailhead, stop and check the informational kiosk sign boards - these will have important information especially as it relates to wildlife closures, seasonal things, wildlife sightings, etc. Many wildlife seasonal closures will have gates that physically block entry to an area - but this is most common over the winter or in spring.
I love riding in Steamboat Springs and want to give back!
Stewardship of these trail areas and advocacy for their preservation and maintenance is crucial, and we would love all users to be a part of this! Routt County Riders organizes regular volunteer trail maintenance and construction days throughout the summer, which you can view on our events page or follow us on Facebook and Instagram at @routtcountyriders. You can become a member of the RCR community by joining us and donate directly to the cause if that is more your style!
We are also a partner alongside the Yampa Valley Community Foundation supporting the Trail Maintenance Endowment Fund - a community fund that grants out seasonally to trail maintenance projects around the Yampa Valley. To donate, or you can swipe your credit card at one of the brightly colored trailhead parking-meter kiosks around town.
Ready to start biking now that you've got all the local tips? Head over to our biking page to learn about trails in the area and where you should start. See you out there!