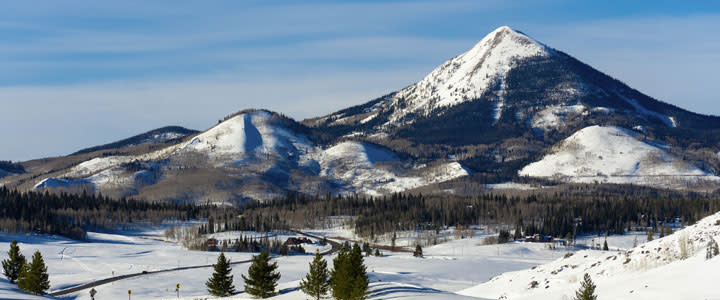 Let Steamboat Springs Be Your Access to the Great Outdoors This Winter
Nestled in the Rocky Mountains, Steamboat Springs is the epicenter for outdoor recreation and fun – and this doesn't change in the winter! One of the best ways to escape the crowds and relax in nature is to take a trip to one of the three state parks that surround Steamboat. Pearl Lake, Steamboat Lake, and Stagecoach Reservoir are all accessible in the winter and offer many activities for everyone in the family. Whether you enjoy ice fishing and snowshoeing, or Nordic skiing and fat biking, go for a short scenic drive to one of these state parks this winter.
Pearl Lake State Park
North of Steamboat Springs below Hahns Peak, the 105-acre Pearl Lake State park feels like an escape into the backcountry of Colorado – even though it's only a few miles off the road. Pearl Lake is a peaceful haven that offers snowshoeing, skiing, snowmobiling, and ice fishing. Our favorite part? Their camping yurts! You can reserve a yurt year-round and, in the winter, these yurts make for the perfect, cozy getaway. Yurts must be reserved in advanced, and you can check the availability here.  Pearl Lake is also dog friendly, so be sure to bring your furry friends with you on this adventure.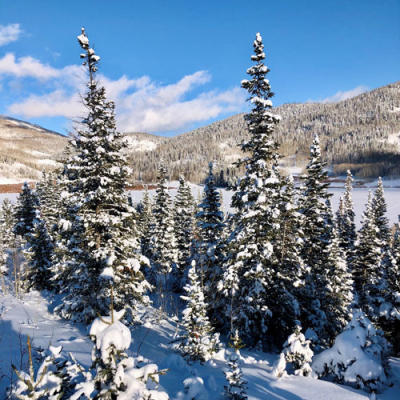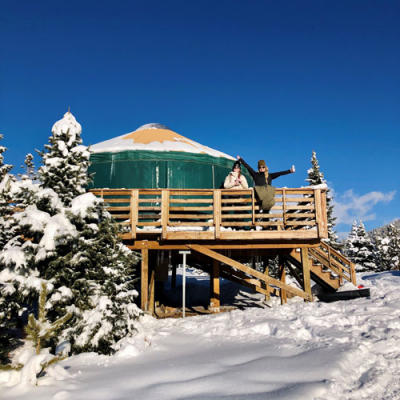 Steamboat Lake State Park
Not too far down the road from Pearl Lake, Steamboat Lake State Park has all your winter fun in one place! This is a great place to do some Rocky Mountain winter camping. There are electric outlets in the Marina parking lot and even cabins available year-round. The park has 12 miles of groomed trail, so don't forget your cross-country skis! Steamboat Lake is also a gateway to146 miles of trails in the  Routt National Forest. If you don't have your own sled, Hahns Peak Roadhouse offers guided tours and rentals right across the street from the park. Other activities available include ice fishing and snowshoeing. Take in the beauty of the lake as your surround with the snow-capped mountains of North Routt!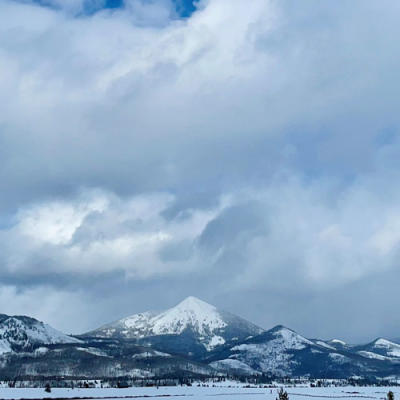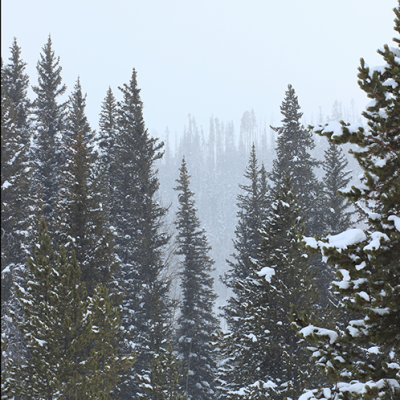 Stagecoach State Park
South Routt is full of adventure in the winter, and Stagecoach State Park is located only a short 25-minute drive from Steamboat Springs. This quiet lake is actually an 820-acre reservoir that is known for some of the best fishing around! In the winters, witness ice fishing happening 24/7 on the lake and take in some of the best vista views and sunsets. No ice fishing gear? The park has basic ice fishing kits and hand augers available at the park office as part of their free loaner program. The 9.7-mile loop around the lake is groomed multiple times daily and you can snowshoe, ski or (our favorite way to ger around!) fat bike the trail. Around the lake there are plenty of group picnic spots for you to relax at. Camping is also allowed and requires reservations.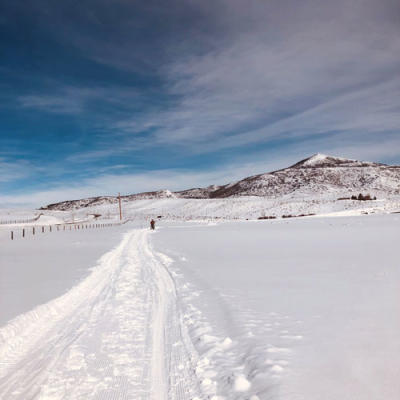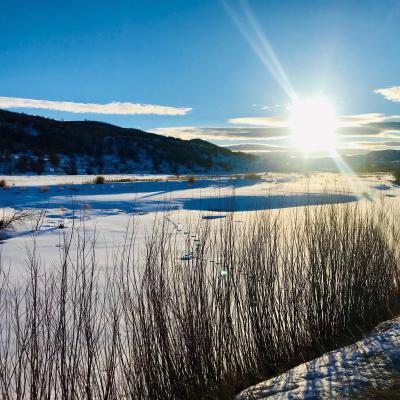 Guided Tours and Local Outfitters
If you're interested in visiting one of these state parks but don't know where to start, we recommend stopping at the Steamboat Lake and Stagecoach Lake Visitor Centers where you can pick up some maps and ask the park rangers any questions you may have. Many local outfitters in town are also here to help! Maybe you want to try ice fishing for the first time or take a ride on a snowmobile? We recommend looking into guided tours to help make sure you have the most fun possible! Places like Steamboat Fishing Adventures have friendly guides waiting to take you and your family on your next adventure. Check out a list of all guides and outfitters on our website here.
Whichever state park you choose to explore this winter, we know it will be one of the most memorable experiences you have here in Steamboat Springs!