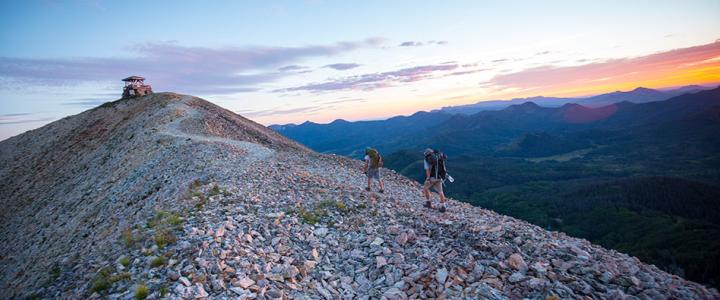 Throughout the seasons, Steamboat Springs and the Yampa Valley have trails open to let your adventurous side run wild. Whether you're wanting to take the family out for a nature walk or challenge your endurance with a more difficult uphill climb, there is a trail for everyone. Below are a few of our favorites we recommend checking out while you're in the area.
IN AND AROUND TOWN:
Spring Creek Trail
Spring Creek Trail is a relatively easy 10.1-mile out-and-back trail right in town that is great for the whole family. Hike a half-mile in and you'll reach a reservoir and park where dogs can be off-leash, and everyone can sit in the cabin-style pavilion to enjoy a picnic. You can then keep on trekking along the creek up toward Buffalo Pass or turn around as soon as you're ready.
OPEN YEAR-ROUND:
Emerald Mountain Via Blackmere Trail 
A locals' "go-to" on the west side of town, Emerald Mountain offers a well-marked hiking and mountain biking trail system for most levels of adventurers. Blackmere Trail, open year-round, is the widest trail of the system and is about four miles roundtrip. It is an uphill hike but well worth it as it leads to Quarry Lookout, which offers a unique birds-eye view of Steamboat Springs down below. In the winter, catch people hiking with up skis or snowshoeing. In the summer, take the hiking or biking trails off Blackmere to explore a bit deeper. Be sure to pay attention to which trails are hiking trails and which are biking trails to avoid any collisions.  
GET UP HIGH:
Hahns Peak Lookout Trail
Wanting to get farther out of town and soak in some views? Hahns Peak may be the trail for you. Although a steep hike, it's under four miles to the 10,839-foot summit of Hahn's Peak. This trail is considered one of the most rewarding treks in Northwest Colorado because of the stunning 360-degree views from the old fire watchtower at the top. Its views of Routt National Forest and Mount Zirkel Wilderness Area come to life in the fall as you can look out to see the autumn leaves light the valley on fire.