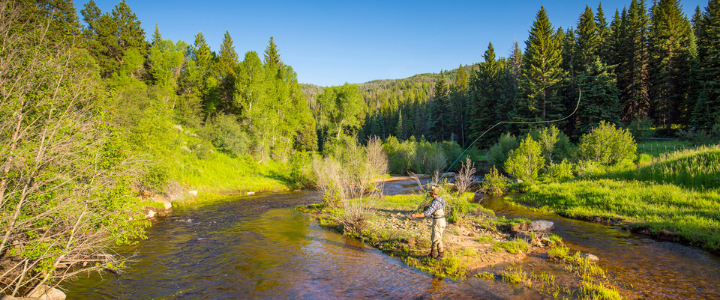 Whether you're a seasoned angler, love fly fishing, ice fishing, or are trying out the line for the first time, Steamboat Springs, Colorado, is the ideal destination for a relaxing fishing trip. The pristine rivers and abundant water sources provide stunning views, convenient access, and incredible wildlife as a fishing destination vacation. In addition, Steamboat's world-class fishing in the Yampa Valley offers a year-round appeal that will have you hooked. To complete your vacation, Steamboat's locally owned angling experts can guide you by foot or boat, to the perfect spots, know local angler tips, and can ensure your gear is ideal for your adventure. Here's our ideas for planning three perfect days fishing in Steamboat:
Day One: Gearing Up & Fishing In Steamboat
Start your Colorado visit at Steamboat Fly Fisher to find out what spots are popping, what type of lures or flies work best, and which areas have the best fishing depending on the vacation season. The Yampa River, running right through downtown Steamboat, offers over seven miles of catch and release fishing of rainbow trout, brown trout, cutthroat trout, and brookies with lures and flies. If you want some extra peace and quiet, why not be adventurous and try Steamboat's smaller streams for fly fishing, including Big Creek, Mad Creek, Fish Creek, King Solomon Creek, or Trout Creek. If you want special access to the best possible fishing, the local anglers can guide you to private waters that will not disappoint. End your day celebrating your catch and sharing your fishing stories with a Colorado craft beer from Steamboat's own Mountain Tap Brewery.
Day Two: Heading North to Steamboat's Lakes
Begin the next fun-filled day of your fishing vacation by stopping by Straightline Sports for top-of-the-line gear, learn what spots the locals have been having success with, and make sure your fly fishing and bait are on point. Head North up to Routt County Road 129, where you can find pockets of public access water that offer some of the best fishing in the state. Keep heading north to spectacular Steamboat Lake State Park for a boat rental or enjoy great fishing from shore. Quaint Pearl Lake State Park, Hahn's Peak Lake, and Summit Lake also offer the best fishing in cutthroat, grayling, and pristine views. Visitors can enjoy a mid-day break at the famous Hahn's Peak Roadhouse or Clark General Store, which offers tasty food and supplies to make your day complete. Take a quick wade in Elk River near the Mad Creek trailhead along the Mount Zirkel Wilderness area on your way back into town to cool off and enjoy the wildflowers. 
Day Three: Heading South for More Remote Colorado Fishing
Finally, explore South Routt's extraordinary fishing scene at Stagecoach State Park, Tail Waters, and Sarvis Creek, which are known for trophy fishing that is not to be missed. Head further south to the infamous Flat Tops Wilderness for some of the best fishing spots and drop a line in Bear River, Trappers Lake, Crosho Lake, or any of the lakes heading back to Stillwater Reservoir. While day trips are accessible to these areas, the secluded camping spots are also a great alternative. Why not get the whole experience by booking a guided wade, river, or raft trip. Professionally trained classes with Yampa Valley Anglers will ensure success. Grab lunch in historicYampa Penny's Diner or a homemade pastry from Bearpaw Bakery.
Know Before You Go:
As many anglers know, both water levels and temperature greatly influence fishing, so stop by any of Steamboat's angler shops or State Park's Centers to do your part in protecting our precious wildlife. When it comes to exploring, visitors should make sure to be considerate of private property, always leave nature undisturbed, be respectful of wildlife and follow all local regulations, including purchasing a fishing license. If we visit responsibly, we ensure that anglers can enjoy Steamboat for generations to come. Visit the Colorado Parks and Wildlife website for more helpful information, videos, and resources during your Colorado vacation.
The beautiful Yampa Valley has always been known as a premier fishing destination, and we are happy to share its priceless treasures with you on your next fishing vacation. Regardless of how you fish or when you choose to come for your Colorado visit, Steamboat has fishing adventures that fit any age and ability. Make your Colorado visit complete and partake in Steamboat's bountiful options to fit your angler dreams. You'll not only leave your Colorado vacation with priceless photos to prove your big catch but also with memories, unlike any other fishing experience.