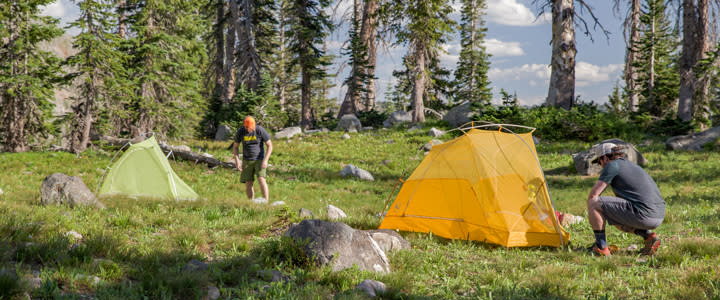 Ways To Bring Steamboat Home With You This Holiday Season
Support business and shop local
There's never been a better time to shop local and support your favorite Steamboat businesses, and now it's easier than ever with many of our businesses offering online shopping options and delivery across the country. We have such an incredible variety of crafted, local products here from hand-printed t-shirts to durable wool socks and small batch whiskey to natural bath and body products – you can find it all here.
We've created the below shop local, holiday gift guide perfect for those joining us in person this winter and for those loving Steamboat from afar.

OUTDOOR GEAR
Grass Sticks: Based in Steamboat Springs, Grass Sticks creates custom, handmade ski poles and SUP paddles out of bamboo. The handcrafted, high-performing gear is also eco-friendly and has a lifetime warranty.
Moots Cycles: Moots has been handcrafting bicycles in Steamboat Springs since 1981 when the first custom steel road frame rolled out the door. The company is known for building the finest quality titanium road, mountain, cross, and specialty bicycle frames, and select components.
Harvest Skis: With the tagline "from tree to ski," Harvest skis are made in the USA with a solid wood core running from tip to tail. From the "Pow Cow," perfect for those deep powder days, to the "Homegrown," the all day/all mountain ski Harvest launched with, and the "Rootdown," the perfect twin-tip ski for park play, Harvest has a ski to suit your on-snow personality.
Big Agnes: For Big Agnes, it all started in 2001 with a sleeping bag with a sleeve for an inflatable sleeping pad, dubbed the "Big Agnes System." Over the last 15+ years, the company has moved into tents, trekking poles, duffels, apparel and even camp furniture.
Hala Gear: Designed and headquartered in Steamboat Springs, Hala Gear sells inflatable stand-up paddleboards and paddles known for being durable and versatile.


photo credit: @grasssticks, @mootscycles, @harvestskis, @bigagnes_, & @halagearsup
LOCAL FOODS AND DRINKS
Steamboat Whiskey Company: While Steamboat Whiskey Company serves up an impressive lineup of spirits, it's their Warrior Whiskey that's likely doing the most good. Founder and head distiller Nathan Newhall is a former U.S. Navy SEAL; a portion of the proceeds from the sale of Warrior Whiskey benefit veteran support organizations to the tune of more than $42K to date. Buy gift cards to the distillery, and purchase themed merchandise including shirts, hats and flasks, online.
Sweetwood Smokehouse Jerky: Sweetwood Smokehouse began as a small family cattle ranch on the banks of the Elk River, supplying beef to restaurants in Steamboat Springs. Sweetwood evolved quickly, supplying a full range of slow smoked, all-natural meat snacks. The slow smoked meat snacks — beef and turkey jerky strips, Fatty Hickory Smoked Meat Sticks, Bully Hickory Smoked Beef Bar — are legendary for their great flavor and texture.
Steamboat Coffee Co.: Steamboat Springs Coffee & Tea Company was established in 2014. It grew from a desire to import the finest coffee beans from around the world and roast them at an altitude and a humidity that produces a perfect cup of coffee every time. The coffee is roasted exclusively in the Yampa Valley. 
Steamboat Winery: Steamboat Winery sources grapes from fine growing regions in California and bottles exquisite wines in Steamboat Springs, CO. Each of their seven varietal labels are Steamboat themed, from the Slopeside White Chardonnay to the River Angler Cabernet. Along with bottles of wine, you can order holiday gift baskets as well.
Honey Stinger: Honey Stinger produces a full array of energy snacks, the most recent being Honey Stinger's new Organic Cracker Bars — a delectable blend of organic nut butter and honey sandwiched between two multigrain crackers, sprinkled with sea salt and then covered in chocolate.


photo credit: @steamboatwhiskeyco, @sweetwoodsmokehouse, @steamboatwinery, @grit_tea, & @honeystinger
CLOTHING AND MORE
Little Moon Essentials: This natural bath and body care brand prides itself on using 100 percent pure, natural ingredients (no parabens or preservatives) to makes its handmade lotions, massage oils, salts, sugar scrubs, lip balms and the newest product in the lineup — aluminum-free deodorants with odor-eliminating essential oils. Stop at the brand's storefront on Lincoln Avenue next time you're in town to check out all of their made-in-Steamboat products.
Point6 Socks: Point6 makes comfortable, durable merino wool socks using a chemical-free and earth-friendly process.
Ohana: Inspired by a love for the mountains and the beach, the owners of Ohana design and handprint t-shirts, tanks, hats and sweatshirts with beautiful outdoor-inspired designs. We love the options with local ties — Mt. Werner, the Zirkels or the Rabbit Ears Motel. Check out the home goods — aprons, tea towels, pillows and stickers — and gorgeous handmade local art and jewelry, too.
The Goat's Goods: Score goat milk soap, bath bombs, bubble bath and even CBD bath bombs from this made-in-Steamboat family-run business.

photo credit: @littlemoonessentials, @point6socks, @mtnohana, & @the_goats_goods
Arts & Culture
Solar Flare Glasswork & Design: Solar Flare creates fine art in the form of glasswork, metalwork, cast sculptures and more using sustainable methods. They have unique wine glasses, centerpieces, vases, and other artwork perfect for your home or office.
Pine Moon Fine Art: This fine art gallery showcases the work of 14 local artists who are inspired by Colorado and the Yampa Valley. The artwork comes in all styles and sizes and you can schedule a private showing to view it all.
Experiences: Steamboat Springs is home to many performing arts venues and organizations such as Perry Mansfield, Strings, and Opera Steamboat. This holiday, give the gift of performance, and check their calendars for upcoming virtual performances or consider making a donation in a loved one's name.
This is not an exhaustive list of all the great goods you can gift to your loved ones this holiday season. Visit our business directory or take a stroll around town for more inspiration on giving the gift of Steamboat Springs this year.