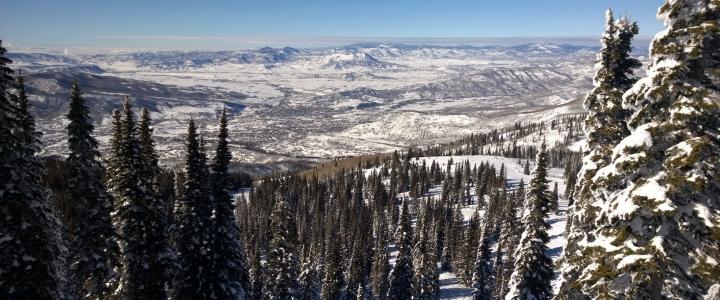 Due to its unique location as Colorado's northernmost ski and snowboard resort, Steamboat often gets snow that no other place does, averaging nearly 30 feet a season. The Boat's sprawling terrain stretches across almost 3,000 acres and features 165 trails—more than you could ski in an entire week. We know it's difficult to narrow that down, so let us direct you to our personal faves for every level, ranging from football field-wide beginner slopes to Steamboat's hallmark glades for experts.
For Beginners
Stampede
Among the most accessible green runs at the resort, Stampede is one of the short, mild trails found after unloading at the Christie Peak Express mid-station. Get off the chair at this first station and take a right to find yourself on this gentle, uncrowded slope that travels by the mini terrain park (great entertainment and for anyone seeking inspiration) and down to Gondola Square.
Why Not
Once your legs are conditioned and you're ready to start exploring, take the Gondola up to Why Not, one of the most satisfying green runs on the planet. Why so rewarding? It meanders for three miles, making you feel as if you're on a true journey through the wilderness. Also, it's green in more ways than one, weaving through pine and aspen forests all the way down to the base of Thunderhead Express, where you can continue back to the base area on Right-O-Way.
Right-O-Way
As a testament to this run's mild slope angle, it serves as the uphill route for mountain bikers in the summer. Skirting Steamboat's northern boundary, it is the most peaceful way to glide back to the bottom area, conveniently taking you past every section of the resort's base area. This means it's a sweet last run of the day for the beginner après seeker.
Sundial
Living up to its name in its potential to catch some rays, this bright, wide run is the highest beginner option at the resort, beginning at the top of the Sunshine Express and sloping into the resort's backside terrain. With views of the surrounding Flat Tops, Sundial is an ideal pre-lunch run, as it continues into Rendezvous Way and takes you directly to Rendezvous Saddle Lodge.
Yoo Hoo
Though short and narrow, this run offers an excellent opportunity to lose the crowd. If you happen to lose your ski buddies, they're likely just a "yoo hoo" away. From the top of either the Christie Peak Express or Christie III lifts, find this run amid the lush pines beyond the Nastar Race start.
For Intermediates
Tomahawk
Best hit early in the day when the sun is casting a glow across the perfect corduroy, Tomahawk is a long, wide, glide-y run accessed from the top of Sunshine Express, paralleling Steamboat's southern boundary.
Buddy's Run
Named after Steamboat native ski icon Buddy Werner, this run is the most popular option off of Storm Peak Express, and it can get busy. That said, it is a true cruiser's dream, beginning with a steeper pitch and ending with a wide run out to the Bar UE lift (or beyond, if you continue skier's left down Tornado).
Rainbow
Perfect for those getting pumped up with a second wind after lunch, this sweeping cruiser takes you from Four Points Lodge in a gentle, right-footed curve down to three lift options (Storm Peak, Four Points, and Burgess Creek) with ample opportunities to scope out some of the area's steeper options.
One O'Clock/Two O'Clock
Speaking of challenge, those looking to begin or refine their foray into moguls, either of these two runs offer a non-threatening option for bumps. One O'Clock is the milder of the two, with well-spaced bumps, a slope angle that is more horizontal than vertical and plenty of space in general to dial in your mogul technique.
Snooze Bar
Located in Morningside Park on the backside of the resort, this run features a dose of Zen as the most remote blue run on the mountain. From the top of Storm Peak, it is best accessed through the sure-to-wake-you-up glades of Alarm Clock.
For Experts
Royal Flush
As its name indicates, there is no higher value for your ski day output than down this white gulley of goodness. On a powder day, pretty much any run off of Pony Express means a winning hand for advanced skiers and riders, but Royal Flush is tip-top.
Cyclone
For individuals who like to go downhill fast, this short run under the Bar UE Chair is a tempting place to make it happen, particularly if it's groomed, which it often is. The second half of it, in particular, incorporates the delicious pairing of steep and wide, a delectable combo to be sure.
Triangle 3
Do you love making short, fast turns? Maybe doing a little (actual) tree-hugging? Anyone who relishes getting lost in the woods must hit this powder-packed glade between Bar UE and Storm Peak lifts.
No Names
For the extreme skier/rider who craves rock features, tight glades, and doesn't mind a short walk, this unnamed treasure trove is accessed from the high point of the resort—the top of Mt. Werner, which is about a 15-minute hike/glide from the top of Morningside Lift. Mostly out of the sun, the powder is preserved long and deep in this area; the only downside is the long, flat run (either First Chance or Last Chance) back to civilization.
Chute 1
For experts who'd prefer to keep their gear strapped on (no hiking required), this east-facing gem is best hit as early in the day as possible, as its easiest access status among the Boat's extreme terrain means it can get tracked out fast. There are a couple of smaller rock face launches to be found on either side of the narrow run.
Written by RootsRated Media for Steamboat Springs Chamber