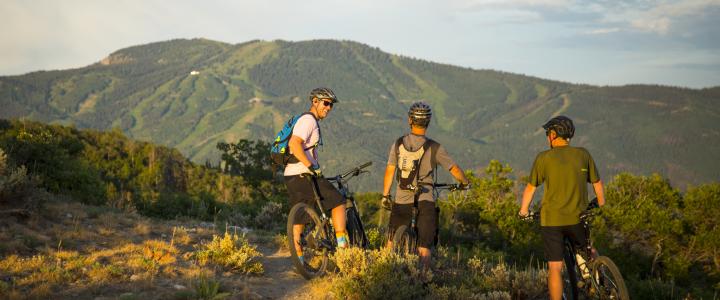 Steamboat Springs, nicknamed Ski Town USA, is renowned for its Champagne Powder and Olympians. But after the snow melts and the skis are stashed away, Steamboat becomes Bike Town USA with its hundreds of miles of mountain bike trails, road tours, gravel backroads, fast downhills, and convenient bike shops. Steamboat, one of America's most bike-friendly towns, doesn't cater to experts only—you'll find plenty of cruiser trails for beginner and intermediate bikers.
Here are 10 ways for you to explore the variety of biking terrain Steamboat has to offer.
1. Mountain Biking Trails
Steamboat is one of America's premier mountain biking meccas with more than 500 miles of singletrack bike trails that wander through meadows flecked with wildflowers and twist around aspen groves. Novice riders can pedal mellow downhills on smooth trails while experts can steer along gnarly rock tracks atop steep ridges. Here are some rides that are not to be missed.
Start your bike adventure south of town at Emerald Mountain with 25 miles of cross-country trails from easy to technical. The upper mountain shines with value rides like Hudson, Quarry Mountain, Blair Witch, and NPR Trails—or you can link Morning Glory and Lupine Trails for a scenic 12-mile ride. After an Emerald day, hit the remote tracks:
Diamond Park Trail on the edge of Mt. Zirkel Wilderness Area is a stellar ride with views of rugged peaks and wildflower panoramas.
Spring Creek is a classic Steamboat singletrack with bridge crossings over the creek and fast sections fringed by forest.
The popular Mad Creek ride, an intermediate trail shared with hikers, winds through aspens and meadows to a historic barn built in 1906.
The Divide Trail, a 25-miler that starts on Rabbit Ears Pass, is one of Steamboat's best rides. Expect spectacular pedaling past lakes, moose, and grassy fields to the top of the ski resort. Finish with a thrilling 3,668-foot descent to the mountain base.
 
2. Road Biking Steamboat
Steamboat Springs is as close to road biking heaven as anywhere on the planet. Country roads and highways roll across brushy hills, follow wide valleys lined with cattle ranches, and climb mountain passes to spacious views. Pick a short out-and-back ride, piece together a looping circuit, or pedal a 100-miler for your asphalt fix. Here are three of the best road rides:
A fast 43-mile ride heads south on CO 131 to a loop passing Stagecoach State Park and Oak Creek.
Elk River Road, offering out-and-back rides between 36 and 63 miles, heads north up a gorgeous valley floored by the meandering Elk River to Steamboat State Park, Hahns Peak, and Willow Creek Pass.
The Rabbit Ears West Summit Ride is an epic outing, climbing 14 miles and 2,790 feet to the 9,330-foot West Summit of Rabbit Ears Pass. After catching your breath, the reward is a speedy cruise down to Steamboat.
 
3. Cruising the Yampa Valley Core Trail
The paved Yampa Valley Core Trail runs 7.5 miles along the Yampa River through the heart of Steamboat Springs. The friendly multi-use trail is perfect for families and leisurely rides with lots of scenic stops on the trail. One of the best is the free Yampa River Botanic Park with gardens and sculptures. Along the river, you can watch anglers pull trout from fishing holes and kids in inner tubes splash through rapids like Charlie's Hole.
On the west side of town, the trail passes the Depot Art Center, Soda and Black Sulphur Hot Springs, and Bear River Bike Park where daredevils practice jumps and tricks. Break up the ride by pedaling off the trail to Yampa Avenue in downtown Steamboat for a patio lunch at Sunpie's Bistro, E3 Chophouse, Sake 2U, or Carl's Tavern. More dining options are on Lincoln Avenue.
 
4. Gravel Grinding Steamboat's Backroads
Gravel roads, a legacy of northern Colorado's ranching and mining heritage, lace the hills surrounding Steamboat Springs and offer world-class cycling adventures. Biking on dirt backroads, called gravel grinding, is a great way to explore the area's diverse terrain and get away from busy trails and highways. Gravel grinders discover solitude and gorgeous scenery on rides that range from 20 to 100 miles in length.
Come in May for the annual Steamboat Gravel Festival, with a week of dirt road riding on local classics. Some of Steamboat's classic gravel rides include the 27-mile Emerald Circuit, 41-mile Sleeping Giant, and 73-mile Trout Creek Built. Experienced riders do the grueling 172-mile Tour of the Flat Tops, a rough circumnavigation of the Flat Tops Wilderness Area south of Steamboat.
 
5. Steamboat Bike Park
The Steamboat Bike Park entertains mountain bikers of all abilities with more than 40 miles of downhill trails and an astounding vertical drop of almost 2,200 feet at the ski resort above Steamboat Springs. The bike park, considered one of the best in the Rocky Mountains, lets you shred gravity on fast trails. Ride the gondola up Mount Werner then bomb down your choice of tracks. Warm up on Tenderfoot and then head down the Rustler's Ridge flow trail with its berms and technical jumps. Rawhide, a 2.4-mile black diamond run, is the area's signature trail. The park offers mountain bike lessons and rentals.
 
6. Steamboat's Great Bike Shops
As Bike Town USA, Steamboat Springs is not only surrounded by top-notch trails and roads but also boasts a selection of full-service bike shops that rivals any big city.
Ski Haus rents skis in winter and bikes in summer, with a full assortment of both road and mountain bikes and offers a superb repair shop.
Steamboat Ski and Bike Kare rents and sells bikes, including cruisers, BMX, children's, road, and mountain bikes as well as clothing, accessories, and racks.
Steamboat Bike Shop at Gondola Square offers downhill mountain bike packages if you're heading to the resort's Mountain Bike Park.
Orange Peel Bicycle Service, housed in an old sawdust incinerator, is a Steamboat institution that caters to road bikers, gravity shredders, and trail warriors.
Wheels Bike Shop on the Yampa River specializes in services like flat repair, bike sales, and rentals, including fat-tire bikes for snowy trails.
Classic Crank Bicycle Shoppe restores vintage two-wheelers and rents a fleet of classic Raleighs and Rudges built between 1952 and 1970.
 
7. Bike Manufacturers in Steamboat
Steamboat Springs is home to two of the most innovative bike manufacturers in the United States. Moots and Kent Eriksen Cycles are industry leaders, making superb handcrafted frames and bicycles for elite cyclists. Moots, founded by Kent Ericksen, a member of the Mountain Bike Hall of Fame, began building titanium-framed bikes in 1981. The company now makes about 1,300 road, mountain, and cross bicycles a year, including the ultimate gravel bike, the new Routt YBB. Ericksen, after leaving Moots in 2005, founded Kent Eriksen Cycles. The company manufactures precision, custom-built bicycles with titanium frames in its shop in downtown Steamboat.
 
8. Bear River Bike Park
Nicknamed "The Bear," the Bear River Bike Park offers a spectacular freestyle biking layout with progressive jumps for beginner to expert riders. The area, sitting on the north bank of the Yampa River, gives a fun Rocky Mountain high with plenty of grins and hollers on its jump lines and two pump-track loops. Kids love the novice track with its smooth berms while big-air riders soar on the daredevil loop. Don't forget your skateboard to shred more air at nearby Bear River Skateboard Park, a concrete jungle filled with bowls and rails.
 
9. Bike Racing
If you're ready to put your bike skills to the test, try out the SBT GRAVL, a gravel bike racing series that takes place in August. You'd be hard-pressed to find a more scenic location for a bike race, and there's a weekend full of events for everyone who loves cycling. For mountain bikers, the Steamboat Stinger is a great option, featuring a course of just over 50 miles on 100 percent dirt, 90 percent of which is singletrack. The event starts and ends at Howelsen Hill Ski Area. More low-key, the bi-weekly Town Challenge is an excellent option for mountain bikers who are around during the week. The Wednesday night races take place at a variety of trails around town. Finally, this year's Colorado Classic women's bike race with start with its first leg in Steamboat. See some of the country's top riders at this impressive event.
 
10. Post-Ride Food and Drinks
After a busy day of pedaling trails and roads, Steamboat Springs waits to satisfy your hunger with plenty of restaurants and brewpubs that serve up tasty dishes. Celebrate the day's ride with a local craft beer at Mountain Tap Brewery, Storm Peak Brewing Company, Mahogany Ridge Brewery and Grill, and Butcherknife Brewing Company. After a chill pint, head downtown and make the tough choice—where should we dine? It's hard to decide with so many options and diverse cuisines. Local favorites include Creekside Café & Grill, Aurum Food & Wine, Café Diva, Winona's, Bistro C.V., Harwigs, Backdoor Grill, Salt & Lime, and Paramount.