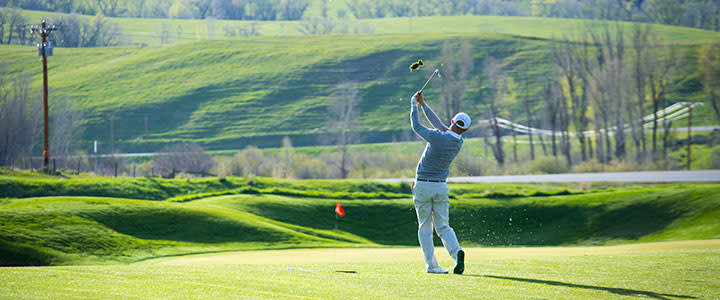 Steamboat Springs is the land where fun-filled activities are abundant. Golfers visiting Steamboat are in luck!  There are three unique and challenging courses to play in the Yampa Valley, but do you have the time? At Haymaker Golf Course, the links style course at the corner of US 40 & Route 131, we believe "there is always time for nine". Here are 10 reasons why we challenge you to play nine holes of golf at Haymaker.
Long summer days give plenty of time to make the most of all that Steamboat Springs has to offer. Beat the heat and play nine holes in the early morning.  You will tee off at the 10th hole, a par four with water to your right.
 
Nine holes are the perfect amount when playing with Junior golfers, so make a family morning or afternoon of it. No phones, no distractions, just good quality time with plenty of interesting terrain to keep young athletes challenged and engaged.

Not sure whether to spend the morning golfing or biking? Take advantage of two sports in one at Haymaker. Bike and golf while enjoying spectacular views of the Yampa Valley.  Rent a Golf Bike & take some 'selfies' to share with your friends back home.
 
Eat, drink and play nine holes!  Play nine holes at 9 a.m. and enjoy lunch at the Patio Grill at 11 a.m. Or take in a late lunch and a cocktail, then tee off at 3 p.m. for twilight rates. Either plan will make for a happy golfer at the end of the day.
 
Want to improve your game?  Double up and book a nine-hole playing lesson with one of Haymaker's PGA or LPGA instructors. Some local knowledge-check out the list of free clinics that are happening this summer.
 
Fit nine holes into your workday. Start a business meeting feeling invigorated after playing nine holes first thing in the morning, or chill out after a day in the conference room by playing nine holes at twilight. Remember twilight rates apply after 3 p.m.

Wedding or bachelor party in Steamboat? Bring the gang together for a fun or competitive round of golf.  Haymaker welcomes groups and offers special rates for 12 or more golfers. Rental clubs are always available.
 
Visiting Steamboat for a conference? Playing nine holes of golf with colleagues provides an excellent opportunity to build camaraderie in a group.
 
Looking for a deal? Book a tee time in advance through local lodges or online at haymakergolf.com to make the most of flexible tee times and affordable pricing. Greens fee deals are always available by booking on Haymaker's website at 11:20 a.m., 12:20 p.m. and 1:20 p.m. every day.
 
Put theory to the test that the golf ball travels farther at altitude.  At 5200ft above sea level, the air is lighter, the sky is bluer & rumor has it that golf balls fly farther. What golfer wouldn't want to give that a try? Book nine holes today at Haymaker and gain 30 yards on your drive!
​