Hot Air Balloon Festival
August 29 - 30, 2020
COVID-19 Update
The event organizers are carefully monitoring the evolving Coronavirus situation and are taking steps to ensure the wellbeing of everyone involved with our event. The event dates have moved to August 29-30. The Tunes & Balloons (Balloon Glow) event has been cancelled as a precautionary measure to ensure social distancing this summer. Visit their website for the most update to date information.
Art in the Park is canceled this summer. 
---
39th Annual Hot Air Balloon Rodeo
The Hot Air Balloon Rodeo offers guests a spectacle like no other with a sky full of color. Due to local and state restrictions, there will not be any public access to the Bald Eagle Lake launch field or any other "official" viewing area. Instead, spectators will be able to enjoy the 30+ balloons taking flight from anywhere in the valley. Look to the sky early to see the balloons inflate and enjoy this wonderful photography opportunity. Visit the event website below for full details on the most colorful weekend in Steamboat.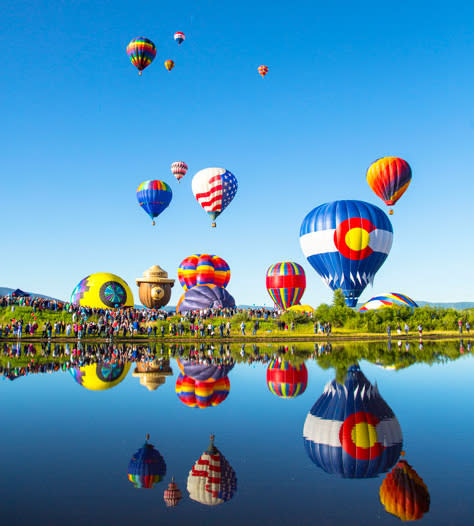 2020 Weekend Schedule
Saturday, August  29th
6:00 - 9:30 a.m. Balloon Inflation, Bald Eagle Lake. No Public Admittance 
9:00 a.m. - 2:00 p.m. Farmers Market, Downtown Steamboat
Sunday, August 30th
6:00 - 9:30 a.m. Balloon Inflation, Bald Eagle Lake. No Public Admittance 
View the full calendar of events for Hot Air Balloon Festival weekend by clicking on the link below. Please continue to check back for updates on the weekend schedule.