Three-Day Fall Getaway Itinerary
Flashes of Gold in Steamboat Springs
The days are warm, the nights are cool, and the adventure is endless. Come experience the fall side of Steamboat Springs.
---
[INSIDER'S TIP: Visit Mid-Week]
Beat the crowds and book your stay during the week. Enjoy discounted rates on lodging and empty trails ready for you to explore!
---
DAY ONE
ACTIVITY: Explore Rabbit Ears Pass
When you turn from Colorado Highway 14 onto U.S. Highway 40, you will start the ascent of Rabbit Ears Pass. The pass is known for its false summit, a crossing of the Continental Divide, and the distinctive "rabbit ears" rock formation that creates one of the nearby peaks. Rabbit Ears Peak Trail, located in the Mt. Zirkel Wilderness, is a moderate out-and-back trail featuring exceptional views of the valley.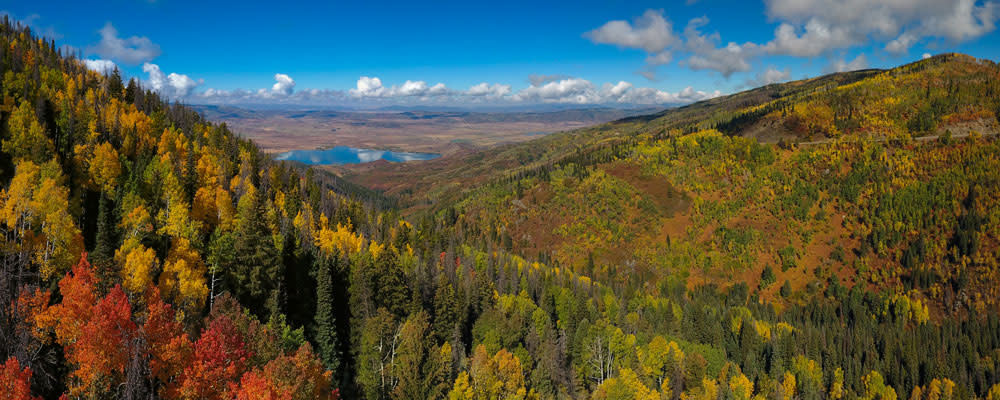 LUNCH: Fuel Up at Freshies
Freshies is a local favorite eatery that will fuel you up for your vacation. Freshies serves up breakfast and lunch made with fresh, local ingredients. Their extensive menu offers plenty of fare that is sure to please health nuts and comfort foodies alike. Whether you're looking for a massive homemade cinnamon roll or a delicious salad made with unique seasonal ingredients, Freshies has you covered.
ACTIVITY: Explore Arts & Culture Scene
A multitude of local artists call Steamboat home as they are able to draw inspiration from our natural beauty and surroundings. This vibrant are scene is why Steamboat was a designated Creative District in Colorado. Head to downtown Steamboat to explore our unique arts galleries influenced by our ranching and Western heritage and our mountain community.
The Ore House has been a staple of Steamboat Springs since 1971. The 125+ year old barn has been converted into a restaurant and has been serving our community for 50 years. Taste local beef along with a fresh salad bar and delicious cinnamon rolls.
ACTIVITY: Explore The Core Trail
Relax this evening by the cool Yampa River. The Yampa River Core Trail is a 7.5-mile paved multi-use trail that runs through the heart of Steamboat Springs and along the river. Savor the journey as you pass scenic stops, picnic tables and benches, and the perfect photo opportunities.
LODGING: Stay at the Rabbit Ears Motel
With an ideal location on the south end of town, adjacent to the Yampa River, the Rabbit Ears Motel is an affordable, comfortable, family-friendly option and a beloved local favorite.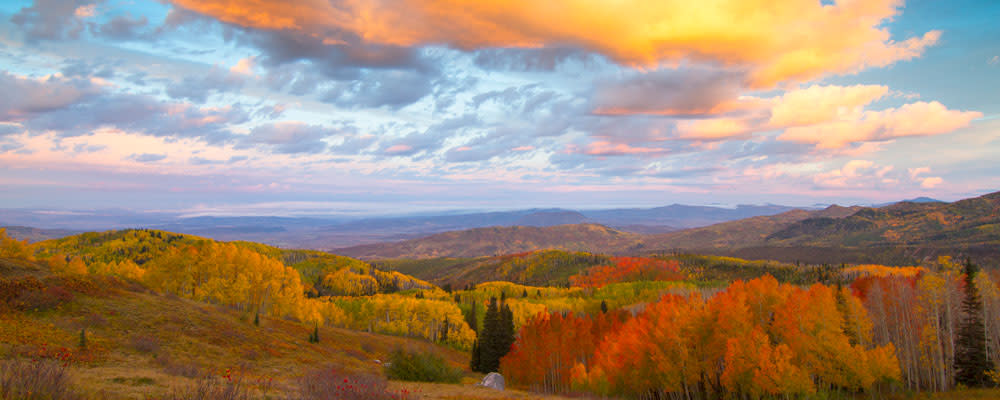 DAY TWO
BREAKFAST: Grab a Hearty Breakfast
Creekside Café is located in downtown Steamboat Springs in the historic Soda Creek building. The setting on the patio beside the creek is serene in the summer and fall, and warm and cozy inside during the winter months. Locally famous for their egg's benedicts and bloody mary's, they use locally sourced ingredients in their dishes sure to leave you both satisfied and wanting more. 
ACTIVITY: Hike the Morning Away
Bask in the beauty of the changing aspen trees as you meander along the Hot Springs Creek. This out and back hike is perfect in the fall, as it is often sun-exposed. Place your feet in the cool creek for breaks along the way as you travel higher up to reach Strawberry Park Hot Springs. The trail has a fairly mild elevation gain making the hike back out quiet and relaxing. 
LUNCH: Snag a Sandwich
Located in downtown Steamboat Springs, this Yampa Sandwich Company is the perfect lunch stop offering tasty, healthy food for all your adventures.
---
[INSIDER'S TIP: Take Your Lunch To-Go]
Stop at Yampa Sandwich Company in the morning before your hike and order your mouth-watering sandwiches to-go to eat on the trail like a local. You can order your food online so it's ready when you are. Remember to pack out all your trash!
---
ACTIVITY: Soak in the Hot Springs
If you packed your lunch for the trail, your hike ends at Strawberry Park Hot Springs. There's no better way to relax your muscles than by soaking in these therapeutic and historic hot springs surrounded by a rustic setting in the mountains. Take in the sights of the surrounding golden aspens as you soak in the hot pools fed by the natural spring water and the rushing Hot Spring Creek.
---
[INSIDER'S TIP: Reservations & Shuttle]
To make for the best guest experience and limit crowds, Strawberry Park Hot Springs requires reservations in advance. Tired after the hike or soaking? Book a shuttle for a ride back to town.
---
DINNER: Aurum Food and Wine
Aurum Food and Wine offers a new element in Steamboat dining. Featuring seasonal, new American cuisine, this refined yet relaxed space features a bar, dining room and spacious deck seating. Nestled along the Yampa River, this watershed has historically provided the lifeline for farming and ranching in the Yampa Valley.
ACTIVITY: Yampa River Botanic Park
Check out this six-acre gem home to 50 gardens, ponds, benches, and sculptures. It is one of the jewels of Northwest Colorado and one of several public gardens in the state. The park is free and serves as a place of serenity for visitors.
LODGING: Camp on Buff Pass
For an alternative lodging choice, opt to camp on Buffalo Pass. You can see spectacular views and access some of the best trails Steamboat has to offer. Camping is a great option for you to experience our wide-open spaces and get away from it all.
Day Three
BREAKFAST: Colorado Bagel Company
Stop by Colorado Bagel Co. to enjoy fresh-baked bagels, muffins and cookies every day. With over 19 varieties of bagels, muffins, cookies, cream cheese and deli sandwiches there's something for everyone.
ACTIVITY: Bike Flash of Gold
True to its name, there's no better time to bike the Flash of Gold trail than in the fall where the aspens that line the single-track pass by in a flash of gold. See the leaves change as well as sweeping views of our valley.  It's an intermediate level multidirectional trail that is 11.3 miles long. The trail features fantastic views, especially from the top, which ends near the summit of Buffalo Pass.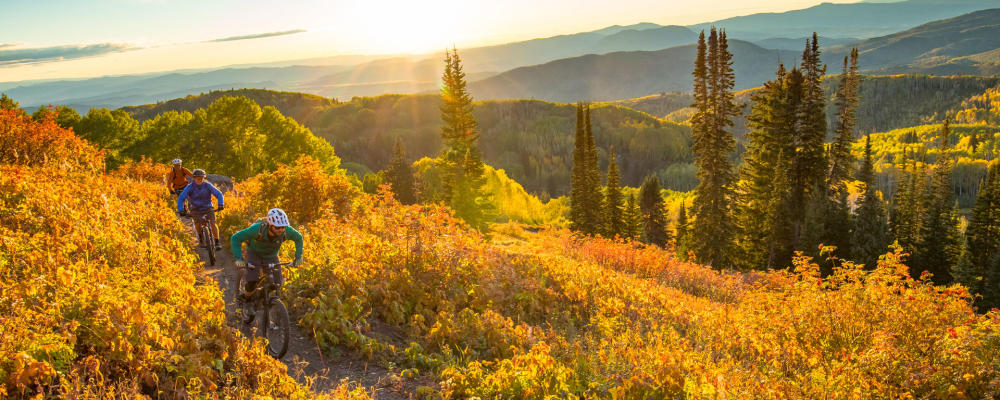 ---
[INSIDER'S TIP: Bike Like a Local]
Steamboat locals are all about getting outside and being active. Don't have a bike? Check out these local gear shops in town that will rent you a mountain bike, cruiser or an e-bike.
---
LUNCH: Yampa Valley Kitchen
Yampa Valley Kitchen is a modern and delicious restaurant in the heart of Steamboat Springs on Oak Street. Check out fantastic salads, bowls, sandwiches and cocktails.
ACTIVITY: Take a Scenic Drive
One of Colorado's prime fall drives is a loop out of Steamboat Springs. Travel south on State Highway 131 through working ranchlands, the historic rough-and-tumble former coal mining town of Oak Creek, the railroad town of Phippsburg, and the quaint historic town of Yampa.
DINNER: Mazzola's
Have dinner at Mazzola's, a Steamboat tradition. They offer a from-scratch kitchen and offer quality all-natural ingredients, an extensive wine list & full bar and late-night food. Famous for their award-winning pizza, hearty pasta dishes and cozy atmosphere, you won't want to miss this piece of Steamboat's history.
ACTIVITY: Steamboat Brew Trail
The Steamboat Brew Trail will take you from downtown Steamboat to the West end of town. The Brew Trail is made up of four local breweries serving some of the finest beers around Colorado and one distillery offering up small-batch whiskey, vodka, gin, and moonshine. Getting around the Steamboat Brew Trail has never been easier. Pick your adventure and walk or bike the Brew Trail on the Core Trail.