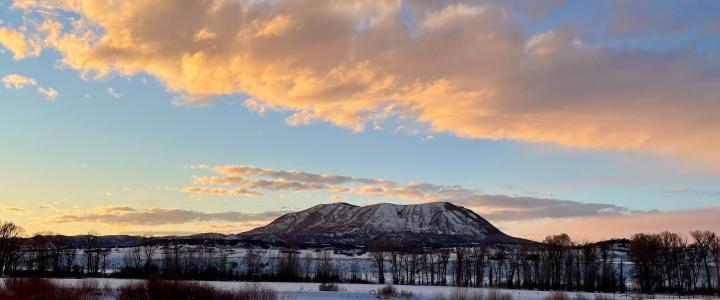 Colorado's top election official says she is still concerned about misinformation as she looks ahead to the 2024 presidential race.
Colorado Secretary of State Jena Griswold, a Democrat, said that while many election deniers lost in the 2022 midterms, there are still many of them in prominent positions.
"There are 150 election deniers in the U.S. Congress," Griswold told the Steamboat Pilot & Today. "There is five or six secretary of state election deniers. The top of the ticket presidential on the Republican side could be an election denier. Their lies incited violence." Griswold, who was in Steamboat Springs to meet with business leaders and election officials on Tuesday, April 4, said she thinks Colorado will continue to see election misinformation as the next presidential election approaches, which she said takes a toll on election workers. Griswold noted that two people have been arrested for threatening her life. "They're causing election workers to step down; it's causing attacks to election infrastructure," Griswold said. "As secretary of state, my job is to make sure that every eligible Republican, Democrat and unaffiliated voter has access." "I'll continue to do everything in my power to shore up our laws, to make sure that if there is an issue, we act quickly and to make sure we continue to have the best elections in the nation," she continued.
Routt County Clerk and Recorder Jenny Thomas said election misinformation is a concern for her office, as well as for other clerks across Colorado. She said they have worked to bring more people into the process so the public can better understand how votes are counted. "There's no smoke and mirrors here," Thomas said. "If you're curious about the process, volunteer, sign up at caucus. We're always looking for help. … We love to answer the questions because we're proud of the work that we're doing." Routt County clerk Jenny Thomas helps election judge Valerie Beers with a machine that opens ballots so that they can be verified on Tuesday Nov. 8, 2022, at the historic Routt County Courthouse in downtown Steamboat Springs.
John F. Russell/Steamboat Pilot & Today Griswold said she hopes to build on previous election reforms this year before the legislature ends its session on May 8. None of this legislation has been introduced at this point, but it is expected to be part of a larger election-focused bill in the coming weeks. One of those reforms would curb candidates' ability to request so-called permissive recounts. While very slim margins trigger an automatic recount, current law allows candidates to request a recount no matter what the vote tally is as long as they pay for the cost of it. Former Mesa County Clerk and Recorder Tina Peters, who was indicted for tampering with election equipment in 2021 and is scheduled go to trial in August, unsuccessfully called a recount in the Republican secretary of state primary last year despite being significantly behind in the race.
"It's very hard on all the election workers in the counties to stand up these recounts and if someone loses by 13 points, it's incredibly infeasible that it will change the election," Griswold said. Griswold said she is pushing for the legislature to only allow these recounts if the vote count is within two percentage points, though she is "open to talking with the legislature over what that percentage is." The Colorado Sun reported last month that changing recount rules hasn't been fully embraced by the legislature.
Jena Griswold, Colorado's Secretary of State, speaks with members of the Steamboat Springs business community Tuesday, April 4, 2023, at the Steamboat Art Museum. John F. Russell/Steamboat Pilot & Today Thomas, a registered independent, said last year's recount in the primary election didn't require as much effort as initial ballot counting, but it does add to the workload. Thomas added that she didn't really have an opinion on the recount legislation, adding that her office would follow whatever the law tells them to do. "We do our processes and procedures based on the law, so if the law tells us to do it, that's what we're going to do," Thomas said. "As far as my opinion on the process, I really don't have one either way."
The second effort would require smaller counties to start counting their mail ballots at least four days before Election Day so they can more efficiently report results on election night, Griswold said. When results are not reported right away, Griswold said it opens the door to more misinformation. Colorado already allows election officials to start counting ballots 15 days prior to Election Day, though it is not required. Routt County starts counting ballots early, which allowed officials to report election results on election night in 2022. "Reporting results quickly adds a layer of transparency and it's what Coloradans expect," Griswold said. The third measure Griswold is pushing would build on previous efforts to automatically register Coloradans to vote by extending it to tribal nations, which Griswold hopes will spur higher turnout among Indigenous communities. As there are no tribal lands in Routt County, Thomas said this measure largely wouldn't affect Routt County. Read on the Pilot website >>