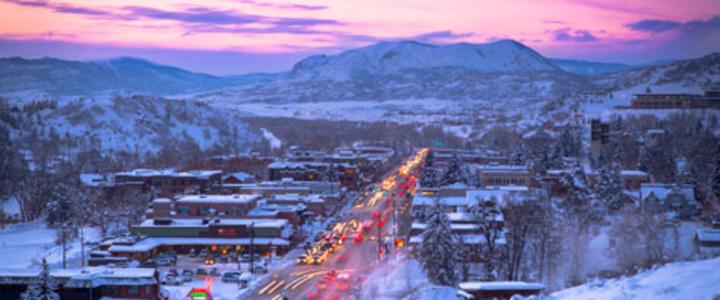 Happy New Year, Steamboat. The start of a new year is a great time to assess where we are and look forward with meaningful goals and real intentions. I would like to share with you highlights of what is happening at your Chamber, but first may I introduce myself.
I am Ted Carey, owner of The UPS Store in Steamboat, and new board president at the Steamboat Springs Chamber. I know many of you personally and professionally, and for those I haven't yet met, please know that I look forward to meeting you and working together to keep our community great.
I began my Steamboat journey in 2005, like many who moved to Steamboat to ski. In less than a year's time, I had bought a business, resigned to skiing less (sadly), and started my entrepreneurial journey. I got my feet wet in community involvement in 2012 through the Leadership Steamboat program where I made great connections and friends that I still rely on today.
For many years, my community focus revolved around the beloved Steamboat Free Summer Concerts where I have sat on the board of directors and most recently chaired for five seasons. I joined the Steamboat Springs Chamber Board of Directors in 2017 and was welcomed to the executive committee.
I am beyond excited to be Chamber president this year, to execute the vision for the organization, and to connect with local business owners and families. I'm looking forward to getting creative when thinking about the future of Steamboat. It is truly an honor to serve with so many committed community leaders and to work with an incredibly talented CEO and staff who make the Chamber's work possible and meaningful.
This past year was not without challenges for our business community. Throughout the public health crisis, the Chamber staff executed our mission of economic vitality in the valley through business advocacy, destination marketing and management, and economic development.
I am particularly proud of the business advocacy work and communications that the Chamber staff maintained over the last year helping keep our businesses open, safe and poised to support their community's needs.
Some of the 2021 highlights that resembled a pre-pandemic world were our Thrive Together Women's Leadership Summit, the packed-house Economic Summit at Colorado Mountain College and the Navigator Awards, where we honored exceptional businesses and leaders in our community. The Steamboat Marathon and Fourth of July Parade returned in 2021 with exceptional participation. The 2021 Leadership Steamboat class brought professionals from across the county together to ignite and develop their experience in nonprofit work and community contribution.
The Chamber's work is never done. Staff is off and running with big goals in 2022 advocating for our local businesses, connecting our community and broadening our economic development focus.
The Chamber's 2021 Annual Report will be available at the end of the month, and I encourage you to review it to see more detail on all of the last year's work. I am incredibly proud of the work, the staff, the board, and the entire membership at the Steamboat Springs Chamber.
If you are not a Chamber member, I would like to invite you to join us in pursuit of our mission of economic vitality and community connectedness in this valley. I can't think of a better place to live and raise a family, and my work at the Chamber is just part of my commitment to continuing that tradition.
Please feel free to reach out to me if you would ever like to discuss the Chamber's work, or how together we can make this community thrive. Read On The Pilot Website >>