Meetings and Events
When your meeting attendees arrive in Steamboat, they will be treated with our legendary genuine friendliness, delighted by our unique western heritage and amazed with the true beauty of our landscape. There is something for everyone in this town, from shopping in our historic downtown area to mountain biking and hiking amongst beautiful wildflowers and scenic views.
We are committed to making your event experience in Steamboat one that will be remembered fondly. We can accommodate groups of 20 or more with any number of accommodations, events sites and meeting rooms. Please let us host your next meeting or event.
For tips on how to plan your next destination meeting in Steamboat, click here.
Fast Facts
3,502 units available throughout Steamboat.
An abundance of outdoor space offers the chance to take advantage of the stunning views and ideal mountain weather and is perfect for receptions, expos and large-scale events.
More than 100 restaurants and bars offering a variety of cuisines and atmospheres suitable for all preferences.
Only a 3-hour scenic drive from Denver International Airport.
Just 22 miles from the Yampa Valley Regional Airport offering year-round air service with convenient connections nationwide. Shuttle service to town is available.
The Steamboat Springs Airport is available for private and charter service and is located minutes from downtown Steamboat Springs.
Hometown to over 80 Winter Olympic athletes since 1932, more than any other town in the US.
Contact
For more information on booking your meeting or event space contact Sarah Leonard at the Steamboat Springs Chamber, at (970) 875-7006.
Complimentary Site VisitSteamboat has many great facilities for a variety of events. Begin your search here, whether you are looking for the perfect location, caterer, lodging, or even itinerary ideas this is your one stop shop to make this your perfect meeting or event.
Book Your Colorado Mountain Vacation
Group Lodging
Lodging accommodations are one of the most important aspects of your meeting or event function. Let us connect you with the right people to find the perfect accommodations to suit your group's needs.
Work Hard. Play Hard.
Steamboat is the ideal destination for your next meeting or conference. Up here, you can take your event to the next level with out-of-the-box breakout sessions and evening receptions.
Ride the gondola to a sunset dinner overlooking the Yampa Valley, or move your third session of the day to the hiking trails just steps away from the conference room. You can even end a three-day seminar with a yoga class along the Yampa River. Contact us and we can help make your event the most memorable and successful yet.
Services
When you're in Steamboat, you and your meeting attendees will feel worlds away from your day-to-day hubbub, yet all the services you need to put on your meeting are right at your fingertips.
Let local Steamboat businesses take care of all the nitty-gritty details, allowing you to focus on your guests. Explore our vendors below or search the entire directory.
Activities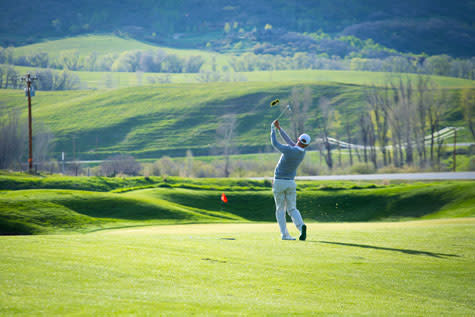 Up here, we have a little bit of everything: towering mountains, a vast, wide open valley, hundreds of inches of snow each winter, massive lakes, rushing rivers – it's a playground just waiting for your event attendees to explore any time of year.
Take a midday break outside with a hike through meadows of wildflowers, spend a free afternoon biking along the river, or take a few ski turns in fluffy, light Champagne Powder®.
Whatever the season, whatever the level of adventure, your group will have more activities available to them than they can dream up here in Steamboat.
See below for our post popular choices or browse the full list of seasonal activities.
Special Offers in Steamboat