Weddings & Groups
The wedding of your dreams starts here
Western hospitality, stunning natural beauty and limitless outdoor activities will welcome you to Steamboat Springs, where your wedding weekend will be one you'll never forget.
Imagine a romantic evening at the Strawberry Park Hot Springs before exchanging vows at the top of Mount Werner. With world class photographers, caterers, wedding planners and florists all based here in Steamboat, you'll just need to bring yourself and your wildest dreams.
Steamboat has a variety of venues to fit your wedding wishes, from the intimate and private guest ranch to ballrooms that fit hundreds. Begin your search here, for the perfect caterer, reception venue with incredible views, and activity ideas for your wedding party. This is your one stop shop to bring your dream wedding to life.
Book Your Colorado Mountain Vacation
Group Lodging
Lodging accommodations are one of the most important aspects of your wedding or group function.
Let us connect you with the right people to find the perfect accommodations to suit your group's needs.
Services
In order to fully enjoy your big day, you need to have the right team on hand. Steamboat Springs hosts many weddings and local businesses are well versed in all you need to make things as easy and carefree for you as possible.
From flowers and catering, to spas and reception facilities, begin your search for all your group and wedding service needs with our vendors below, or search the entire directory.
Reduce the carbon footprint of your event by taking advantage of the Yampa Valley Sustainability Council's Zero Waste Wedding Guide.
Activities
Planning a wedding or reunion can be very challenging when it comes to activities. Luckily here in Steamboat, we have activities for all adventure levels, and all interests. Towering mountains, a vast, wide open valley, hundreds of inches of snow each winter, massive lakes, rushing rivers – it's a playground just waiting for your family and friends to explore.
Plan a group hike among meadows of wildflowers, spend a free afternoon biking along the river, visit the legendary Strawberry Park Hot Springs for a relaxing soak, or take a few ski turns in fluffy, light Champagne Powder®.
Whatever the season, whatever the interests, your group will have more activities on their wish list than they can dream up here in Steamboat.
See below for our post popular choices or browse the full list of seasonal activities.
Itinerary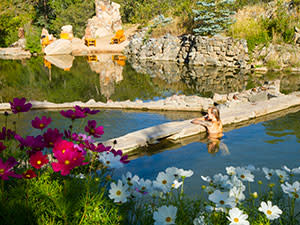 With the abundance of activities Steamboat has to offer there are a number of ways to start planning day-to-day options for you and your guests to enjoy.
Let us give you some examples to get you started and on your way to laying out the perfect wedding weekend or reunion with options for activities in which all can partake. More Info
Be sure not to forget about the honeymoon!
Special Offers in Steamboat