Respect the Yampa Valley
The Yampa Valley is a place steeped in adventure, iconic landscapes, and genuinely friendly people. And this doesn't come without hard work! We are dedicated to taking care of our resources, rivers, trails, and those who love Steamboat Springs. Learn how you can join us in respecting the Yampa Valley on your next visit.
LEAVE IT BETTER THAN YOU FOUND IT
You may have heard that expression before – but be sure to leave all trails, lakes, rivers, parks, and open spaces better than you found it! This includes packing out what you pack in and disposing of all waste – especially from your pups! If you are enjoying food or drinks near the river, have just finished tubing, or are ending your hike, do not leave anything on the river or trails. You can donate or recycle anything you don't need anymore - and there are plenty of waste bins throughout town. Bonus! Try renting gear instead of purchasing it for a single-use.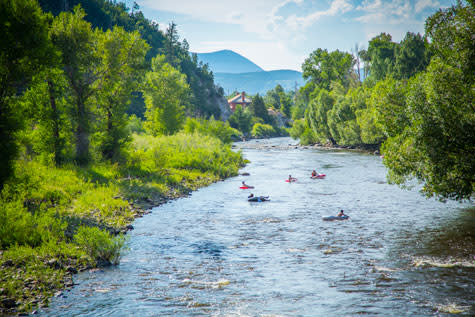 Downtown Etiquette
As a small town, we take care of each other, which means crossing at specified intersections, observing speed limits through town, and parking in designated areas. Be sure to respect the guidelines of all shops and restaurants while in town, along with the people who work there! Finally, don't forget that many of our buildings are historical, and we work hard to keep them beautiful year-round.
River Etiquette
The Yampa River is the life of our valley and runs through the heart of downtown Steamboat Springs. With the river comes plenty of fun that includes tubing, kayaking, rafting, fishing and so much more! Before you hit the river, be sure to understand the guidelines for the activities you are enjoying. This includes rules set in place by the City of Steamboat Springs and the Department of Wildlife in order to keep the river healthy and clean.