Membership Events
The Chamber offers a variety of networking, educational and expo events to provide opportunities for its members and the community. View upcoming Chamber member events below.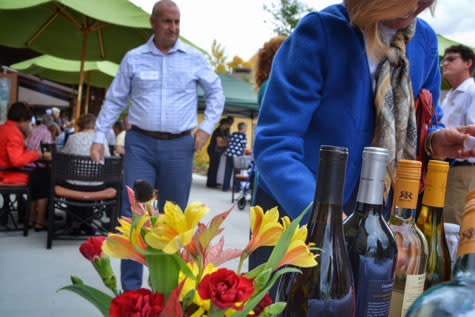 Educational Events
Our education events range from bi-monthly updates to business seminars and annual banquets.
Business Education Series
These business education events are held regularly with topics of interest relevant to the business community followed by questions and an opportunity for networking.
Business Outlook Breakfast
Business leaders from various sectors including real estate, finance, construction and lodging present brief, up-to-date information followed by questions and networking.
Economic Summit
This annual one-day event provides practical, thought-provoking and timely content on the future of our regional economy and the impacts on all sectors of the economy. Learn More
Navigator Awards
This annual event is produced by the Steamboat Springs Chamber and Steamboat Pilot and Today. The awards are designed to recognize the accomplishments and contributions of outstanding Chamber members. Learn More 
Winter Expo
A two-fold opportunity, the expo allows our members to showcase their business, as well as offer the community one-stop to explore a number of businesses in Steamboat Springs and the surrounding area. This event is held every year in early December. For businesses interested in registering a booth, contact Vic Walker, Membership Manager, (970) 875-7004.
Networking Events
Our networking events are designed on a small scale to give business professionals the opportunity to engage with the group, and create strong connections from the event. If you are interested in having a networking event held at your business contact Vic Walker, (970) 875-7004.
Mixers
Chamber mixers are designed on a larger scale to allow for more casual networking. Learn about local businesses and socialize at these popular events. Free food and drinks, great prizes, and excellent business connections. Free for Chamber members and their guests.
Past Membership Events
Business Education Series: Company Culture - October 16, 2019
Led by Jonathan O. Clark, the seminar discussed why positive culture is important to business and how it impacts everything from employees to the overall success of the business itself.
Business Education Series: Meaningful Marketing Data - August 27, 2019 
Mtn. Dog Media founder Kayleen Cohen discussed how to use Google Analytics to monitor website traffic volume, traffic sources, on-site behavior, and sales conversions and how to use this information to make adjustments to your marketing strategy.
Business Education Series: Conscious Communication - June 27, 2019 
Transformational Coach, Sarah Kostin shared the principles of Non-Violent Communication (NVC) and how this framework can help to improve your communications with family members, coworkers, or any humans you meet along the way. 
Business Education Series: Content Marketing - May 29, 2019 
Mtn. Dog Media founder Kayleen Cohen shared tips and tricks for researching and tracking keywords, creating copy with a desirable keyword density, planning blog content, and more.
Business Education Series: Resiliency and Happiness in the Workplace - April 4, 2019 
This course focused on the roles that character strengths, positive coping skills, and resiliency play in our lives and how developing these skills in ourselves and our employees can improve productivity and office culture.
Learn More about Member Benefits
Special Offers in Steamboat