LMD Performance and Impacts
WINTER PROGRAM PERFORMANCE AND IMPACTS
Over the past five years, the program aimed to open new markets, work with new partners, rebuild reserves, implement summer flights, and grow the number of overall seats. The combined reserves now sit at a forecast 2017 year-end amount of $5.7 million and overall seats have grown 22% over the past four years.

The air program moved from 7 to 14 markets including four cities on the west coast, Austin and Kansas City; expanded relationships with several air partners; and in summer 2017 offered daily nonstop flights from Houston and Denver. New airlines are actively being sought for additional markets in future seasons, which would not be possible without the current funding scenario.
WINTER SEATS, PASSENGERS AND LOAD FACTOR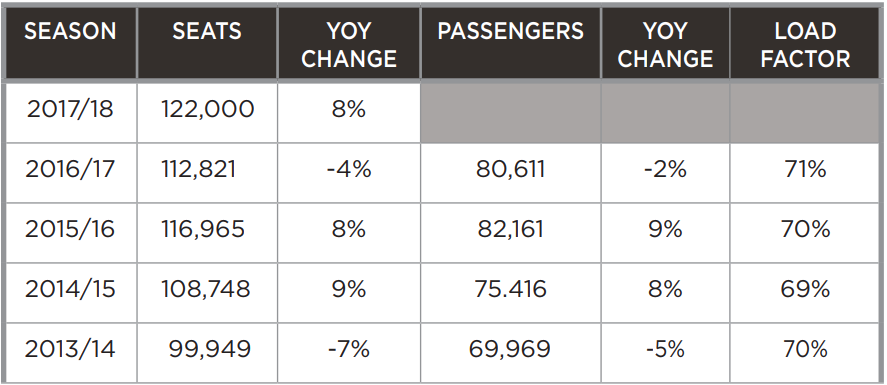 The program is moving in the right direction and making a difference for the entire community. Steamboat is in a better position than other resorts due to the funding mechanisms in place, the private/public partnership and strong airline relationships.
It's important to keep in mind that the airline industry is volatile and changes occur from month-to-month, week-to-week or even day-to-day. For example, the upcoming 2017/18 season continues to see high MRG contracts for flights due to increased competition for aircraft and airline profitability.
To view the Winter Air Program costs and allocations of funds, please click below.
RESERVES

VIBRANT ECONOMIC GENERATOR & GATEWAY TO THE NORTHERN ROCKIES
A key gateway for Northwest Colorado, the Yampa Valley Regional Airport (HDN) is the seventh busiest commercial airport in Colorado and one of only three west of the Front Range with a 10,000-foot runway. The facility not only provides access to a majority of winter destination visitors, but also offers convenient flights for regional residents and businesses and serves as a key asset in attracting new businesses and location neutral enterprises to the region.

Airport operations are self-funding, collecting nearly $5.0M in landing and security fees, sales tax on fuel and rent this past year. The commercial air service, made possible through MRG contracts, assists in bringing in sufficient operating revenues, which allows the facility to function without Routt County subsidies. The facility, which has doubled in size over the past decade due to a series of multi-million-dollar improvements, also supports dedicated general aviation, Federal Express and UPS services.
YVRA continues on its flight plan to the future with improvements built upon a foundation of more than $27M in Federal, State and County funded projects that include:
2015 - $16.7M runway rehabilitation that included new lighting and paved shoulders enhancing flight safety and snow removal operations
2016 - $3M 500,000 gallon water tank project serving the Airport and Town of Hayden improving the Airport's fire protection and Town's water system infrastructure
2016 - completion of a new 20-year YVRA Master Plan carefully charting the Airport's path to continued improvement and growth
2016 - purchase of two new pieces of critical snow removal equipment and a new airfield beacon optimizing snow removal and improving flight operations safety
2017 - construction of 5,000 SF snow removal equipment storage building and replacement of Runway 28 approach path lights to improve equipment availability and lifespan and enhance light operations
2018 – construction of an additional large commercial aircraft parking spot and repair of existing commercial apron to increase aircraft handling capacity and decrease turn times
2019 – Atlantic Aviation, one of the largest fixed base operators (FBO) in the U.S. scheduled to invest $7M-12M to relocate and expand their operations at YVRA
2019 – full commercial apron and taxiway refresh coating to extend pavement lifespan
These projects facilitate future business opportunities throughout the terminal and airport property and have a positive impact on current business partners as well as aviation related businesses of the future.
Special Offers in Steamboat