FUNDING STREAMS
Since its first year, the commercial air program has relied on minimum revenue guarantee (MRG) contracts to ensure adequate nonstop flights into the YVRA. Without contracts, the airlines would utilize the aircraft on more profitable routes, which would negatively impact the winter destination guests who currently arrive through YVRA.
The LMD collects revenues to fund its commitment to program costs primarily through the following revenue streams:
ACCOMMODATIONS TAX
Since its inception, the LMD has utilized proceeds collected through a 2% tax on nightly accommodations within district boundaries.
AIR SERVICE SALES & USE TAX (2011-2016)
Voters approved a 0.25% tax on sales within the City of Steamboat Springs during the general election in November 2011. The five-year community tax sunsetted for collection on December 31, 2016.
SALES TAX & ACCOMMODATION TAX RESERVES
Two separate reserve accounts have been established for contingencies and opportunities. The Sales & Use Tax reserve will continue to be used until expended, likely in 2018.
The LMD Board and Steamboat Ski & Resort Corp., due to the nature of the funding sources, conservatively budget for the entire MRG cost at the full amount (CAP). Historically, the actual MRG cost has been lower than CAP resulting in savings. For example, payments to the airlines for the past four years have been lower due to improved performance as a result of successful and strategic marketing, matching capacity with demand and reduced fuel costs. The reduced costs allow more dollars to flow into the reserves.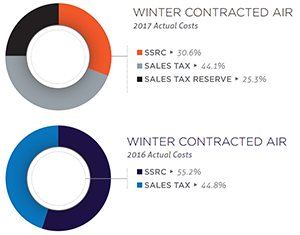 From 2013-2017, the program featured a waterfall payment from private and public entities that covered costs. First in was the Steamboat Ski & Resort Corp. paying $1.1M annually. Next, funds generated from the previous year's 0.25% Air Service Sales & Use Tax were used along with Sales Tax Reserves; followed by committed lodging tax revenue and lodging tax reserves from the LMD. Finally, the Steamboat Ski & Resort Corp. was responsible for any shortfall in approved program expenses.
For winter 2017/18 a new Air Program Contribution Agreement was established and approved by City Council. Winter and Summer Air Program costs will be split 33.33% Steamboat Ski & Resort Corp. and 66.67% LMD.
Special Offers in Steamboat