Steamboat Marathon Race Info
All races are scheduled for Sunday, June 2, 2019 at 7:30 a.m. All races finish at the courthouse in downtown Steamboat Springs.
Marathon and Half Marathon Race Information
Entry Limit: Marathon - 500 participants, Half Marathon - 1200 participants
Entry Deadline: 5 p.m., Saturday, June 1, 2019
Parking
Parking is extremely limited at both starting areas. Traffic on our open course is an added hazard and is strongly discouraged. It is strongly discouraged to park near the detour on Route 44 or anywhere on the course. Participants should plan to park near the bus pickup and race finish area located downtown between 5th and 7th street.
Weather
All races will take place rain or shine. For more info on current weather conditions, please click below to view weather and a live view of conditions in Steamboat Springs.
Marathon and Half Marathon Course: (map)
The half marathon USATF Certified Course begins at the mid-point of the Marathon course locally known as Moon Hill at an elevation of 6,990' and finishes at the same location as the Marathon in downtown Steamboat Springs.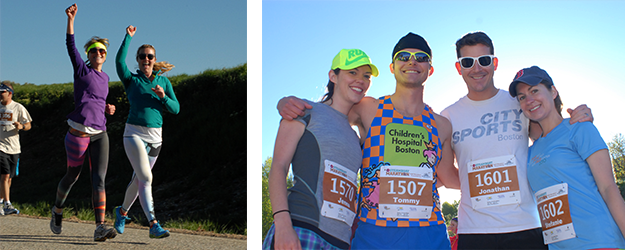 Time Standard
The marathon and half marathon course will close at 1:00 p.m., 5 ½ hours from the start time, a marathon pace of about 12:30 minutes per mile. We strictly enforce this policy. Race services, aid stations and traffic control will not be provided on the course after 5 ½ hours. An early start is not available. If you're unable to run the full Marathon in less than 5 ½ hours, please register for the half marathon.
Important: Non-registered runners, pacers/escorts, inline skates, bikes, dogs, and baby joggers are strictly prohibited.
Age Classes
Male and Female: 19 and under, 20-24, 25-29, 30-34, 35-39, 40-44, 45-49, 50-59, 60-69, 70 and over.
10K Run & Walk Race Information
Entry Limit: No Limit
Entry Deadline: 5:00 p.m., Saturday, June 1, 2019
10K Course: (map)
This SATF Certified course begins and ends at the courthouse in downtown Steamboat Springs.
The 10K starts on 5th Street and heads northeast up 5th Street to Maple Street, then heads north on Amethyst Drive past the Steamboat Springs Middle School to Strawberry Park Road. Here you will take a right onto Strawberry Park Road, until you reach the aid station.
Follow County Road #36 also known as Strawberry Park Road to North Park back towards town. Take a right at Missouri Street then a left onto 7th Street, a right onto Pine Street, left onto 11th Street and a final left onto Lincoln Avenue to the finish.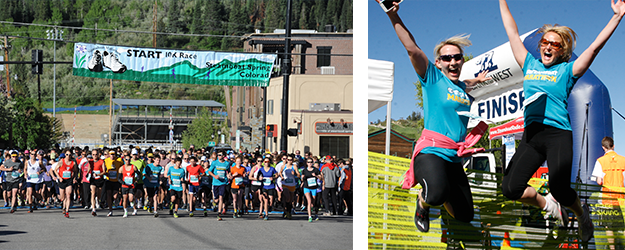 Aid Stations
Aid stations for the marathon are located at miles 3, 6.5, 10, 13, 15.5, 18, 20.5, 22.5,24.5, the finish, and at the corresponding points on the half marathon.
An aid station will be located at the 5K mark and the finish line for the 10K.
2017 Aid Stations
Alpine Bank / Horizons
Citizens Supporting Property Rights
Civil Design Consultants
Honey Stinger
Memorial Hospital at Craig
Rex's / Mazzola's
Steamboat Resorts by Wyndham
Steamboat Rugby
Sheraton Steamboat
Twisted Trails
Walgreens
Wind River Casino
Yampa Valley Electric Assn.
Honey Stinger Fun Run
The Honey Stinger Fun Run is open to little stingers 5 years and older. It starts at 11:45 a.m. and is a 1/2 mile race on paved road, starting and finishing at the courthouse, in downtown Steamboat Springs.
Registration for the Fun Run is free and takes place the day of the race starting at 10 a.m. on the courthouse lawn facing 5th Street. All participants receive a prize for participating. The Fun Run will be capped at the first 200 registrations.
Awards
All awards will be presented throughout the morning at the finish area on the courthouse lawn. NOTE: Recipients of overall awards will not be eligible to receive age division awards. We are proud to present awards from local manufacturers in Steamboat Springs such as Smartwool.
Road Closure
From 6 a.m. until 3 p.m. we will be closing the westbound lanes of Lincoln Avenue from 5th to 11th for the finish of all the races. The side streets off of Lincoln Ave to Oak Street that will be closed are 6th, 7th, 8th, 9th, 10th, and 11th.
We will have traffic controls in place for vehicular traffic on Hwy 129. Northbound traffic on 129 will be diverted to the left lane just past the entrance to Elk River Estates and proceed north to Cullens Corner where traffic controllers will be in place. Southbound traffic on 129 will be diverted at Cullens Corner onto RCR 44, and then back onto 129 at the intersection of 44 and 129 just north of the airport. From Cullens Corner to the start of the half marathon at approximately Moon Hill there will be one way traffic, controlled by a pilot car leading the traffic on the west side of the road. Traffic controls and pilot car operations will be in place.
Special Offers in Steamboat