Navigator Awards
September 7, 2018
5:15 - 9:00 p.m.
Join the Steamboat Springs Chamber and the Steamboat Pilot & Today as they present the Annual Navigator Awards. This event is designed to recognize the accomplishments and contributions of outstanding Chamber members.
About the 2018 Event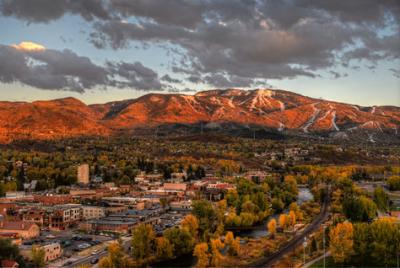 The Navigator Awards distinguishes and honors leaders who have contributed and shaped the Steamboat Springs economy, and are visionaries behind today's outstanding businesses.
The awards are an opportunity to review the best business practices of successful entrepreneurs and set a benchmark of excellence for the years to come.
2018 Award Winners
Business of the Year: Freshies Restaurant
Businessperson of the Year: Mark Walker, President of Resort Group
Young Professional of the Year: Jason Peasley, Executive Director of the Yampa Valley Housing Authority
Service Excellence Person of the Year: Kelly and Jason Landers, of Creekside Café
This year's winners exemplify an exceptional commitment to the community, and their respective businesses, that make Steamboat an incredible place to live and work. We look forward to celebrating their accomplishments September 7th at Thunderhead Lodge on top of the Steamboat Ski Area.
Past Navigator Award Winners
See below for the past five years of Navigator Award Winners:
Business of the Year
2017: Steamboat Springs Art Council
2016 The Chief Theater
2015 Steamboat Restaurant Group
2014 Yampa Valley Medical Center
2013 Ski & Bike Kare
Businessperson of the Year
2017: Adonna Allen
2016 Scott Marr
2015 Bob Dapper
2014 Ed MacArthur
2013 Jim Schneider
Young Professional of the Year
2017: Tara Weaver
2016 Nick Sharp
2015 Glen Traylor
2014 Sarah Fox
2013 Chris Tamucci
Service Excellence Person of the Year
2017: Barbara Robinson
Eligibility
Nominations will open on June 25 and close July 20.
Any Chamber member in good standing is eligible for the Business of the Year Award.
Business owners or general managers employed by Chamber members are eligible for the Business Person of the Year Award.
Any Young Professional in the Steamboat Community or surrounding areas is eligible
Any front line service professional employed by a chamber business is eligible
Navigator Awards Criteria
Is actively involved in community projects that enrich the Steamboat Springs economy and community.
Fosters a work atmosphere which encourages and supports employee development.
Possesses a progressive management philosophy.
Exhibits leadership among Steamboat businesses.
Demonstrates positive support of business community.
Goes above and beyond the call of duty.
Thank You to Our Partners