Wild West Air Fest
September 1, 2018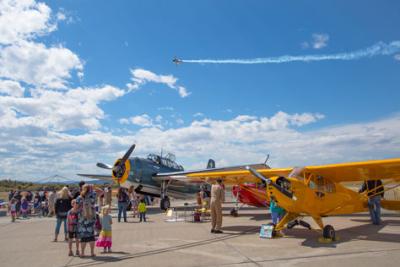 Steamboat's Wild West Air Fest will feature an aerobatic air show during the event. The festival will also feature a vintage and warbird static aircraft display, kids activities, and more.
This event highlights a mountain town Labor Day celebration with entertainment varying from a homemade chili contest to a PBR bull riding event. Bring the whole family for this fun-packed weekend.
14th Annual Wild West Air Fest - See the Very Best Pilots in the West
The Wild West Air Fest features nationally renowned performers providing edge of your seat excitement as they perform thrilling aerobatics and formation flying. Don't miss the nonstop, action-packed performances in the extended air show this year.
2017 Highlights
WWII Navy Torpedo Bomber TBM-3 Avenger performing a bombing simulation
Rocky Mountain Renegades with their 9 ship formation team
National Performer, Barry Hancock, in his WWII T-6
New! Mark Johnson in his Russian Provost Jet
Air show pilots Ken Fardie & Todd McLaughlin with their Trojan T-28 Warbirds
International aerobatics champion Dagmar Kress
Dream Big Entertainment - Be a fighter pilot! Dress in a flight suit and helmet and sit in a real fighter jet cockpit and get your picture taken.
Get to the event early to join Astronaut Steve Swanson for a meet and greet
Wild West Plane Rides
You can be part of the Wild West Air Fest and fly in these amazing aircrafts. Plane rides are available on a first-come, first-served basis with reservations and payments made directly with the pilots. Rides will be available Saturday during the event and the following Sunday after the event. Some rides are able to be reserved online and others need to be made on site so arrive early.
2018 Weekend Schedule
Saturday, September 1
Wild West Air Fest, Steamboat Airport, 9 a.m. - 3 p.m.
11 a.m. Opening Ceremonies: Steamboat Springs CAP Color Guard, RE/MAX Skydiving Team and National Anthem
11:30 a.m. - 2:30 p.m. Aerobatics performed by the Rocky Mountain Renegades and other pilots
5:30 a.m. - 3:15 p.m. Yampa Valley Crane Festival, various locations
9 a.m. - 2 p.m. Farmers Market, downtown Steamboat
9 a.m. - 2 p.m. Downtown Sidewalk Sale, downtown Steamboat
Sunday, September 2
5:30 a.m. - 3:15 p.m. Yampa Valley Crane Festival, various locations
9 a.m. - 2 p.m. Downtown Sidewalk Sale, downtown Steamboat
10 a.m. 10K at 10,000ft, Summit of old Rabbit Ears Pass Road
3 p.m. - 9:30 p.m. End of Summer Jam, Howelsen Hill Amphitheater
5 p.m. - 7:30 p.m. Rocky Mountain PBR Bull Bash, Romick Arena
5 p.m. - 8 p.m. Sunset Happy Hour, Steamboat Ski Resort
Admission
$10 for adults per day, $5 for youth ages 6 - 12, and free for 5 and under. Purchase tickets in advance and skip the line at the event!
VIP Flight-Line Seating: Looking for the best seat in the house at the Air Fest? Add VIP flight-line seating to your admission for only $5. VIP seating is first-come, first-served.
A $3 military discount will be honored for tickets purchased on site.
**No parking at the event site. Parking available at the Stockbridge Transit Center (1505 Lincoln Ave.) and The Routt County Combined Court (1955 Shield Dr.), with city buses running to and from the event. Dogs will not be permitted on buses or at the event.**
To view buses locations in real time, click here.
Exclusive Air Fest Condo Deals
Book your Labor Day getaway with Mountain Resorts.
Aircraft Sponsors
Atlantic Aviation
City Market
Civil Design Consultants
Hawk Flight
Jviation
Postnet
Steamboat Resorts by Wyndham Vacation Rentals
The Steamboat Grand
Wal-mart
Wind River Casino
Yampa Valley Electric
Zephyr Helicopter Company
Pilots
In you are interested in participating in the air fest contact Debby Standefer at debby@ddmarketingconcepts.com.
Vendors, Volunteers, and Sponsors
View the below for options on how you can be a part of this highly anticipated Labor Day Weekend event.
Volunteer Sponsorships Vendors
Thank You to Our Partners