Healthcare
UCHealth Yampa Valley Medical Center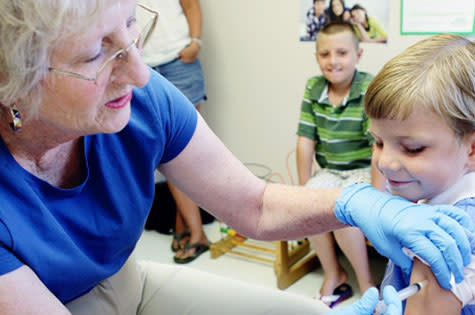 Steamboat Springs and Routt County communities are served by UCHealth Yampa Valley Medical Center, an accredited, full service, 39-bed acute care hospital that serves more than 51,000 outpatients annually. Yampa Valley Medical Center is a non-profit, non-tax-supported community hospital that is dedicated to serving the needs of residents throughout northwest Colorado.
YVMC offers more than 30 specialties to meet the needs of patients. From family medicine and obstetrics and gynecological care to joint replacement and emergency medicine, YVMC provides high-quality care to residents and visitors alike. As part of the UCHealth family, patients have access to even more health care providers and resources.
As a regional healthcare center, YVMC partners with local, state and regional agencies to address identified needs in the communities it serves.
A pillar of the Steamboat Springs community, YVMC is committed to maintaining its reputation for high quality and patient satisfaction. For more information about YVMC, please visit their website or call 970-879-1322.
Service Highlights
The following clinics and services are available in Steamboat Springs:
UCHealth Cardiac Rehabilitation
UCHealth Gloria Gossard Breast Care Center
UCHealth Heart and Vascular Clinic
UCHealth Jan Bishop Cancer Center
UCHealth Occupational Medicine Clinic
UCHealth Pain Management Clinic
UCHealth SportsMed Pediatric Therapy Clinic
The following clinics are available in Craig:
UCHealth Craig Medical Clinic, including visiting specialists in Cardiology; Dermatology; OB/GYN; Orthopedics; Pain Management; and Urology
Fast Facts
550+ employees
80+ physicians
30+ specialties including emergency medicine, minimally invasive surgery, cancer care, cardiology, obstetrics/gynecology, breast health, orthopaedics and joint replacement, rehabilitation services including physical, occupational and speech therapies, occupational medicine and integrative health services including acupuncture and massage.
2015 by the numbers

8,942 emergency care visits
1,448 inpatient admissions
336 newborn deliveries
135 volunteers provided 5,260 volunteer hours
Provided over $1 million in charity care
Awards
2016 Healthgrades Outstanding Patient Experience Award

Awarded to the top 10 percent of hospitals in the US that deliver exceptionally safe and consistent results.

2015 Healthgrades Five-Star Recipient for Natural Deliveries

Distinguishes YVMC as a top performing hospital in women's health across the nation.

2015 Press Ganey Guardian of Excellence Award

Recognizes YVMC's Emergency Department for consistently achieving 95th percentile performance in patient satisfaction during a one-year reporting period.

2014 Top Performer on Key Quality Measures awarded by The Joint Commission

Awarded for improving performance on evidence-based interventions that increase the chances of healthy outcomes for patients with certain conditions.

Five-star Patient Experience Rating from the Centers for Medicare and Medicaid Services

Awarded based on answers to the Hospital Consumer Assessment of Healthcare Providers and Systems Survey given to more than 3,500 hospitals.

Top 20 Rural Community Hospital Award by the National Rural Health Association

Awarded to hospitals that have achieved success in overall performance based on a composite rating from nine indices of strength: inpatient market share, outpatient market share, population risk, cost, quality, outcomes, patient perspectives and financial stability.
Northwest Colorado Health
Established in 1964, Northwest Colorado Health (formerly Northwest Colorado Visiting Nurse Association) creates community health and wellness through public-private and dual-county partnerships in Routt and Moffat Counties. Northwest Colorado Health has been self-supporting since 1967, and has grown to operate facilities in Steamboat Springs, Hayden and Craig. Originally, Northwest Colorado Health only provided public health services and home health care. Over the past two decades, the agency successfully added hospice, aging and comprehensive primary care services. Today, the organization provides health programming across the region to people of all ages, income levels and cultures.
Other Community Medical Services
In addition to UCHealth Yampa Valley Medical Center and Northwest Colorado Health, the area is served by a wide variety of medical professionals and wellness services. Please check our business directory for more information.