COVID-19 Updates & Regulations
Routt County 
Face coverings are required in public places in Routt County.
Follow the 5 Commitments of Containment to keep Routt County safe and healthy.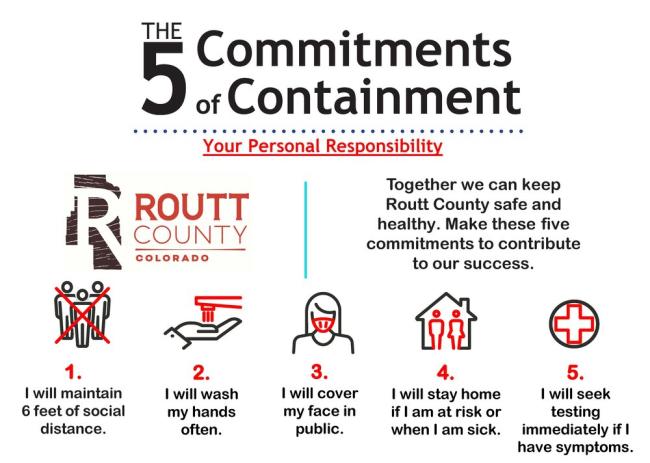 Routt County has a website dedicated to the COVID-19 pandemic. Continue to check their site for updates daily.
Routt County is currently under the Safer at Home Level Orange: High Risk. If cases continue to rise at the current rate, there is a chance we will move into Stay at Home Level Red. View Restrictions Here
Recent Updates:
February 24: The State approves Routt County's move to level yellow at 6 a.m. Friday. Capacity in restaurants, non-critical manufacturing, gyms, fitness centers and indoor events and entertainment will increase to 50%, up from 25% under level orange. Capacity in offices will also increase to 50%, but remote work is still strongly encouraged. Learn More
February 1: The RCBH amended the existing Public Health Order to implement restrictions in order to decrease case counts. Restrictions include limiting personal gatherings to one household, restaurants to seat only one household at a time, and require office businesses to reduce to 10% occupancy. Click here to learn more
January 4: CDPHE moves Routt County to Level Orange effective Monday, January 4. Learn More
December 30: CDPHE approves Routt County's Mitigation Plan and Commissioners approve new Public Health Order. View highlights below or click here to learn more.

Gyms and recreation centers to open at 25% or 25 people excluding staff and coaches.
Outdoor swimming pools are allowed to open at 50% capacity, up to 50 people excluding staff and coaches.
Indoor swimming pools are allowed to open at 25% capacity or 25 people excluding staff and coaches
Last call is now 10:00 p.m.

December 18: State of Colorado allows restaurants to open indoor dining at 25% under the less restrictive level Orange+: High Risk. Learn More
November 18: Routt County will move into a more restrictive level Red: Severe on Friday, November 20 at 5 p.m.
November 10: Routt County moves into more restrictive Safer at Home Level Orange: High Risk
November 5: State moves Routt County into more restrictive Safer at Home Level Yellow: Concern
October 8: State Approves Routt County Request for Level 1 Safer at Home 
August 4: Routt County Declares Extension of Disaster Declaration until November 2.
September 16: SBA Offers Disaster Assistance to Colorado small businesses economically impacted by the Grizzly Creek Fire. Learn More
September 4: Routt County Declares Extension of Disaster Declaration
August 19: Routt County Commissioners Enact Stage Two Fire Restrictions
August 4: Routt County Declares Extension of Disaster Declaration until September 3rd
July 16: Routt County Commissioners Enact Stage One Fire Restrictions
June 17: Routt County Board of Health extends the local Public Health Order through the end of July. This Public Health Order continues the requirement for businesses to post their site mitigation plans in a visible location and customers and employees to wear masks in public places.
June 16: Board of County Commissioners adjust variance request for events. The County's variance request will ask the state to approve two more phases for increasing event sizes to 100 people indoors and 175 outdoors starting July 9, and 175 people inside and 250 people outside on July 30.
June 9: Routt County extends Emergency Disaster Declaration until July 9
June 3: Routt County Board of Health confirms restaurants use the county variance.
May 26: Routt County Commissioners will allow short-term lodging prohibition to expire on May 31. Full details here.
May 22: Routt County amends Public Health Order on business mitigation requirements. Full details here.
May 15: Routt County Commissioners amend Lodging Public Health order to allow camping at state campgrounds.
April 10: Routt County Commissioners issued Public Health Order 2020-03. This Order is effective within the entirety of Routt County and applies to any individual, business or organization. Read a brief summary below or read the full summary prepared by the Steamboat Springs Chamber. 
March 24:  Routt County Commissioners Issue Executive Orders to Reduce COVID-19 Community Spread. The first Order prohibits new visitors in hotels, motels and short-term rentals and the second Order limits gatherings to no larger than five people at a time.
March 13: Routt County Declares Local Emergency
 
We encourage the public to follow Routt County Emergency Management on Facebook and subscribe to press releases and County news here.
State of Colorado & Federal Updates
The State of Colorado is under a Safer at Home in the Vast, Great Outdoors Public Health Order
February 6: Governor Polis released Colorado's new COVID-19 Dial 2.0. The new dial allows Counties with low disease transmission and ample hospital capacity the opportunity to further open their economies. It also allows Counties seeing increased hospitalizations and higher case counts to more quickly be able to change levels and address the disease transmission.
December 21: The U.S. Senate and House of Representatives overwhelmingly passed a $900 billion COVID-19 relief bill. Read a summary prepared by the U.S. Chamber here.
November 2: The Colorado Department of Public Health and Environment (CDPHE) released a new public health order with streamlined guidance and clarification on the dial framework. The new public health order is similar to past orders but integrates Protect Our Neighbors, Safer at Home, and Stay at Home orders together, and it makes a series of technical updates requested by stakeholders.
September 2: Colorado Gov. Polis extends executive orders declaring a Disaster Emergency Due to the Presence of Coronavirus Disease 2019 in Colorado.
August 19: Colorado Gov. Polis issues statewide fire ban. Click here for a list of fire restrictions for each county.
July 16: Colorado Gov. Polis signed Executive Order D 2020 138, a mandatory statewide mask order. The order requires people in Colorado who are 11 years and older to wear a covering over their noses and mouths when entering or moving within any public indoor space and while using or waiting to use public (buses, light-rail) or non-personal (taxis, car services, ride-shares) transportation services.
July 14: Healthy Families and Workplaces Act - This bill extends the COVID-19-related sick leave protections, effective immediately, and creates a traditional paid sick leave requirement beginning January 1, 2021.
July 14: Whistleblower Protection Public Health Emergencies - - This bill prohibits employers from discriminating, taking adverse action, or retaliating against any worker based on the worker, in good faith, raising reasonable concern about workplace violations of government health or safety rules, or about an otherwise significant workplace threat to health or safety, related to a public health emergency.
June 4: Colorado enters Level 3: Safer at Home and in the Vast, Great Outdoors
April 6: Colorado Gov. Polis amended and extended Executive Order D 2020 012 limiting evictions, foreclosures, and public utility disconnections, as well as expediting unemployment insurance claims processing.
April 6: Colorado Gov. Polis extended the suspension of other regulatory requirements, including clarifications to alcohol delivery and takeout, requirements related to taxicab carriers, in-person processes for background checks, and driver's license and identification card renewal. 
April 5: Colorado Gov. Polis implemented a Crisis Standards of Care Plan
March 25: Colorado Gov. Jared Polis issues Stay at Home Order for the entire state of Colorado in order to stop the spread of the virus. 
March 22: CDPHE amended statewide public health order on social or physical distancing to limits gatherings to 10 or fewer people.
March 22: Colorado Gov. Jared Polis orders Colorado employers to reduce in-person workforces by 50% due to the presence of COVID-19 in the state.
March 19: Colorado Gov. Polis secures Federal Loan Assistance for Colorado's Small Businesses.
March 11: State requirements on new Emergency Paid Leave Rule. 
March 10: Colorado Gov. Jared Polis declared a state of emergency to protect public health and our vulnerable populations, and prevent the spread of the COVID-19 virus.
 
Click here to see the full list of Executive Orders from the State of Colorado.