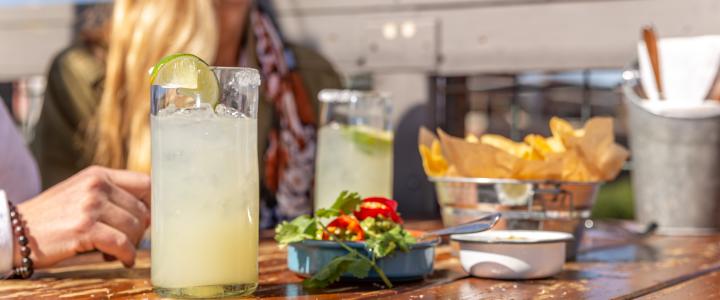 Steamboat Springs may be a small mountain town in Northern Colorado, but as a destination for excellent food, it punches way above its weight. While Steamboat is best known for its incredible mountain landscapes and epic snowy terrain, its culinary scene is thriving. What could be better than playing in the wilderness of Colorado? How about following your outdoor adventure with great food! Steamboat's culinary delights are the perfect accessory to your mountain weekend getaway. Follow this foodie guide to a memorable 48 hours in Steamboat Springs, and you won't be disappointed.
Friday Night
Nothing says Friday night like tacos and margaritas. With a sweet rooftop patio, a Colorado twist on traditional tacos, and a bevy of creative cocktails, Salt & Lime on Main Street is the place to launch your tasty weekend. Indulge on bison tacos and a side of cauliflower hash partnered with a flight of choice tequilas. Top off your meal with some Nutty Churros while enjoying the Colorado sunset. However you partake, this modern taqueria will transport you south of the border all the while enjoying breathtaking views of the rocky mountains.
Saturday
Start Saturday right at Freshies, where breakfast is served with a side of local charm. This iconic diner is not just famous for its gigantic cinnamon rolls. The family-owned establishment serves up breakfast fare (without the side of grease) that will leave you fueled up for a perfect day of exploring. Whether you are looking for a light plate of avocado toast, a smothered breakfast burrito, or a traditional benny, Freshies has the variety to satisfy everyone's early morning palette.
After breakfast, explore Main Street with its charming boutiques and galleries. End your stroll at Old Town Hot Springs where multiple pools await. Enjoy a leisurely soak, tackle a swim workout, or take a thrilling ride down the waterslide—all before lunch.
For the best sandwich in town, head to Steamboat Meat & Seafood. While the deli isn't the main event at this butcher shop/gourmet market, it is definitely a hidden gem. Traditional offerings like Reubens and Pastrami sandwiches compete with other favorites like Momma Mia's Meatball Sub and the Porky Pig, which features house-smoked pulled pork. Or opt for the more sophisticated side of the menu and grab a French Quarter Turkey or Tarragon Chicken Salad. Load up on sandwiches and head out to the river for a proper waterside picnic.
For the afternoon, rent some cruiser bikes and take a gentle ride down the Yampa River Core Trail. This 7.5-mile path offers an easy way to enjoy the sights of the area with stops at some lovely attractions along the way, like the Yampa River Botanic Park.
Soul food in Colorado? At Low Country Kitchen your southern culinary cravings are in for a treat. With a modern casual atmosphere and a menu to drool over, this contemporary eatery will leave you planning your next return trip. Dine family style with fried chicken, collard greens, grits, and biscuits. And be sure to leave room for pecan pie.
Sunday
Enjoy a leisurely Sunday morning at Creekside Cafe & Grill. Nosh on a hearty eats accompanied by the gentle waters of the creek. With seven eggs benedict variations and a dynamic list of bloody mary combinations, Creekside has the perfect ratio of good food to relaxation, making it ideal for the brunch crowd.
Head out of town after brunch and explore Strawberry Park Hot Springs for the day. This outdoor oasis is accessible by car (or by foot if you are up for a hike). Enjoy the hippie vibe of this northern Colorado treasure where basking in the mountain sun becomes addicting.
Before dinner, check out Off the Beaten Path Bookstore & Coffeehouse. Grab a pre-dinner latte and peruse the books and magazines that line the walls of this charming cafe. This little gem off of Main Street is the perfect place to gather intellectual ammunition to share over your last meal in town.
Celebrate your weekend in Steamboat with a final meal at Laundry. Contained within a rustic wonderland of exposed brick, Laundry invites collaboration and playfulness with its tapas inspired menu and a long list of spirits and cocktails. Laundry's menu rotates frequently to highlight seasonal favorites but the shrimp pow pow and short ribs are favorites not to be missed. Linger over multiple rounds of these small plates with flavors that pack a punch and let the reminiscing begin.
Of course, this is just the tip of the iceberg for all that you can do in Steamboat. From mountain biking and hiking in the summer to every possible snow sport in the winter, your plate is always full. Make the places you relax after a day outside just as memorable. Click here to see even more amazing dining options in town.
Written by Jordan Martindell for Matcha in partnership with Steamboat Springs Chamber Resort Association and legally licensed through the Matcha publisher network. Please direct all licensing questions to legal@getmatcha.com.