The Steamboat Marathon has become a favorite for many runners and non- runners alike. For a lot of runners, they have those races that they run every year, no matter what. For me, I've made this race a yearly tradition that finds me at year 15.
This race has served many different roles.  It was my first half marathon years ago and  acts as a yearly warm up to the trail-running season.  It also was a return to racing after injuries and was a race to celebrate my mother after she passed away.  It has been a good motivation to run through snowy Springs and was a celebration of our son as I ran pregnant last year.  The race typically starts under a gorgeous, blue sky, although it once saw snow in June.  Above all, it is a chance to celebrate a beautiful town and the Yampa Valley by running with friends, some avid runners and some that make this their first or only race of the year.
Whether starting the full marathon in the cool mountain air at Hahn's Peak or taking on the half marathon, you run past fields of green grass, spring wildflowers, the Elk River, and horse-filled pastures. This reminds r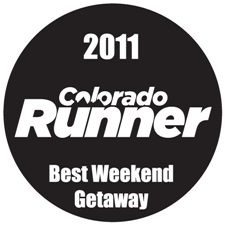 unners why its one of the prettiest road marathons in the state. I love it when you run towards the finish downtown with the snow covered ski area as the backdrop.
It doesn't matter whether they are the last 10k runners or the fastest marathoners, everyone finishes at the same place, everyone has accomplished something and everyone is treated to streets lines with cheering supporters.  I am looking forward to my 15th year, and many, many more after that and, as always, seeing old and new friends at the start!