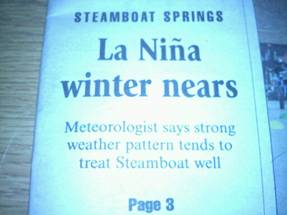 As we hold our breath for the season's first snowfall, we at least have the first prediction of what's in store for this winter. Local meteorologists are predicting a strong La Niña winter.  The last time La Nina paid Steamboat a visit we racked up an unbelievable 489 inches!
For all you weather geeks: a La Niña is characterized by unusually cold temperatures in the Pacific Ocean around the equator. For all of you who keep score: La Niña favors the Northern Rockies and Steamboat is just far enough to the north to reap the benefits.
I'm no meteorologist, but I can forecast what you are about to ask: "Are we going to get some snow this season?" I hear the powder hounds howling already!