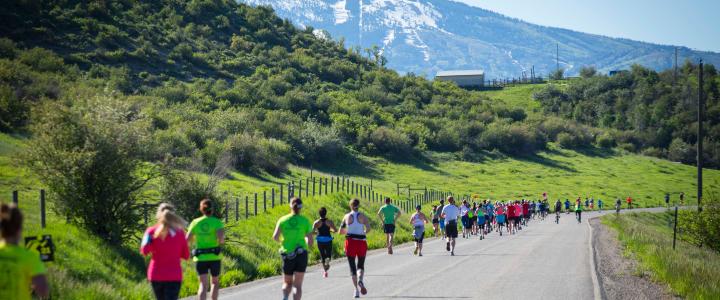 So you signed up for the Steamboat Marathon, Half or 10k, congratulations! I know how easy and tempting it is to sign up for a big goal race while inside on a snowy winter day, keyboard courage as we like to call it. Thankfully, you made that leap because now you are registered and training undoubtedly is underway. When the race is four to five months out your training should be about building a base, both mentally and physically. Simply getting outside when it's dark in the colder winter months can be a challenge, but that effort also makes the late spring and early summer warm and sunny efforts seem like a gift. Start to visualize running along those beautiful mountain roads in Steamboat with green grass, peaks, and wildflowers in every direction.
Use this time to devise a solid training plan or change the one you are following if it's not serving you well. You may even need to explore working with a coach. I myself have employed a coach for big running goals. Something about needing to enter your workouts into a program like Training Peaks can keep you motivated when you might otherwise be tired. It's also nice to bounce ideas off someone who understands and may have a solution to problems as they arise.
You should be using this time to slowly build up miles, especially if this is your first or second crack at the marathon distance. Going out too fast, too far, or too early is a recipe for mental and physical burnout and injury. Building a base, muscle memory, and the strength in your muscles to handle the miles is invaluable. We can easily get ahead of ourselves, so do not fall in that trap. You have time, use it wisely. I would suggest adding in some strength training and yoga if you have not already. You will benefit from even one day of each if your schedule is tight. If you are time-constrained, there are many good yoga sites for online classes. Sometimes I need to fit in yoga at 5:00 a.m. or 8:00 p.m. and these options can work well.
Consistency is key throughout your training plan so if you are sick or have an off day during the winter months, just breathe deep and know you have time. You should be building a base but a few days off will not derail you. I'm also a big fan of running a race or two in your buildup. If you are running the full marathon, look for a half marathon to run in April. The race simulation is invaluable to help you remember little things about race day that you might be forgetting.
Lastly, as your miles build-up and race day gets closer you do not want to have any annoying details left out there. I would suggest booking your plane tickets now if traveling from out of state and getting your lodging squared away. This always makes me feel that much more committed and organized when I do so soon after signing up for a big race.