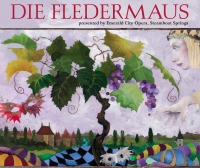 Ok yes, that is a little bit of a tongue and cheek title as what we're presenting this weekend is an amazing cultural extravaganza in our gorgeous little mountain town.
Steamboat's own Emerald City Opera is once again collaborating with world renowned opera singers (from the New York Metropolitan Opera) to present Die Fledermaus.
If you've always been curious about opera, are a seasoned opera connoisseur (and own your own fancy schmancy opera glasses), or are just looking for an incredible way to spend this Thursday night (August 18, 2011), then Please click here for tickets and all of the details.  Oh and don't forget Die Fledermaus is going to be sung in English.
Watch this video to see the high calibre performers that comprise Emerald City Opera.  This past performance was one of our favorites given the Wild West slant... [youtube http://www.youtube.com/watch?v=T2z1RyDFeD0]
And not only do you have the opportunity to watch this talented group of opera performers, you can also go to the After Party at Three Peaks Grill sip wine, eat delicious appetizers and ask them all of the crucial opera questions you've been waiting your whole life to have answered.
Lizzie's suggestions for questions to ask the performers at the afterparty:
1) Is it really not over until the Fat Lady sings? 2) Was Elmer Fudd's performance in, What's Opera, Doc? One of your favorites? 3) Was Mozart really murdered by his rival? 4) How often does crystal break all around you when singing high pitched opera notes - and, if it happens often, should the chandeliers in fancy opera houses be made of plastic? 5) Is your dream roll to star in the opera Barkley of Seville with basketball star Charles Barkley
[youtube http://www.youtube.com/watch?v=YR4YXsUn5VA]
Ok, we're being silly here and we all know that Opera is serious business - NOT.  It's an amazing art form with thrilling story lines of deception and intrigue.  The Emerald City Opera's annual performances are one of the most phenomenal cultural highlights of the Steamboat summer season.
And where else can you wear cowboy boots in an acoustically amazing pavilion with the mountains as your back drop and New York Metropolitan Opera singers taking center stage?  Why only in Steamboat, of course!
DIE FLEDERMAUS Thursday, Aug 18, 2011 7pm at the Strings Music Pavilion Click here to buy your ticket