Are you going to be a part of the most demanding bike race held on American soil in one place, Steamboat Springs?  The event we've all been waiting for all summer is happening tomorrow (Friday, Aug 26) - the Stage 4 USA Pro Cycling Challenge that will finish smack dab in the middle of downtown Steamboat Springs and start up again with Stage 5 from the base of Mt. Werner (meadows parking lot) on Saturday, Aug 27.  If you have no idea what all the hype is about - check this video that explains how the mountain makes the difference for these seasoned cycling pros who have never raced at this altitude - never climbed to these heights in competition.  The mountain changes everything. [youtube http://www.youtube.com/watch?v=u8XyGIvdRX4]
Have you been watching all of the action on the Shack Tracker?  The bikers are in Vail today - edging closer and closer to Steamboat.  Live streaming video and commentating available at the click of a button.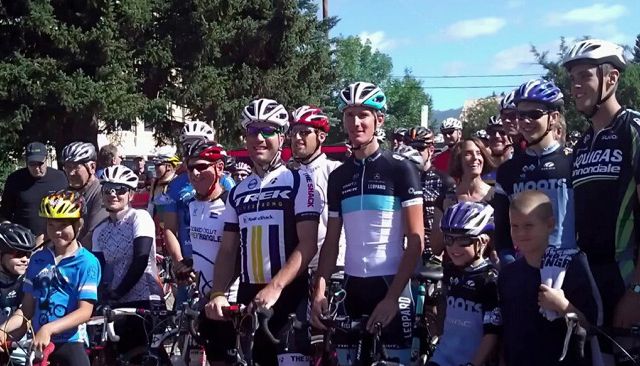 And, of course, we're all loving the fact that Andy Schleck of the Leopard Trek Team made a special visit to Steamboat a week ago for some pre-training and hanging out with the fans (basically the entire town of Steamboat came out to ride with him).  He and his brother, Frank Schleck, were two of the top Tour de France finishers this year; and we hear Andy liked our little town quite a lot.  They, and all of the other pro riders, will be at Athlete's Alley on Saturday morning - signing autographs, mugging for photos, rubbing pedals with the fans.
Check out Team Leopard Trek's humorous call out to liking their facebook fan page -- these men are intense in the competition -- but light hearted when they're out of the saddle.
[youtube http://www.youtube.com/watch?v=A7beszWUNm8]
And here"s a really fun link where you can watch the route from Avon to Steamboat as if you were riding it at 60mph - white knuckles et al.... Be sure to hit "play route" in the top right corner to get the full adrenaline pumping experience.
Everything you need to know about Steamboat and the Stage 4 & 5 experience is on our www.steamboatprocycling.com site plus links to discounts on lodging and a whole slew of fun bike related events.  Oh and if you wear bright green at the finish line - you can get yourself a super cool cowbell (while supplies last). See you tomorrow in Steamboat!