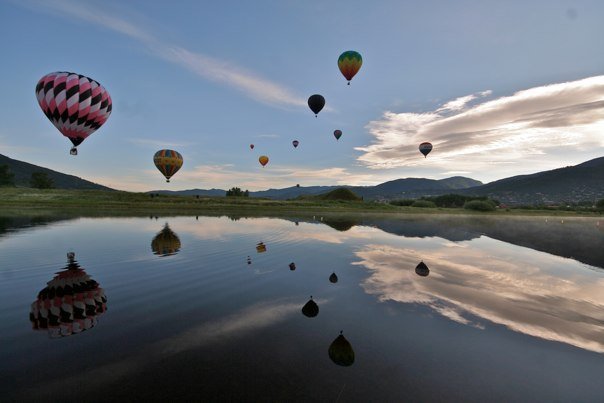 It's our favorite time of year, again, 31 years and counting.  Steamboat's Springs Chamber Resort Association's Hot Air Balloon Rodeo and the Steamboat Springs Arts Council's 37th annual Art in the Park.  It's an especially colorful weekend when balloons fill the air high above Bald Eagle Lake and artisans from around the country sell their paintings and art works at the Depot's West Lincoln Park.  If you missed the hot air balloon launch this morning, have no fear, we'll be doing it all over again tomorrow morning.  Seeing the inflation of these massively awesome flying machines is a pretty cool event in and of itself, so take the quick ride out to Bald Eagle Lake to get up close and personal with the pilots and their crafts.  The reflected views of the balloons over the lake are some of my most FAVORITE photo ops.
Click Here for all of the details for Steamboat's Hot Air Balloon Rodeo.
And after you've seen the morning magnificence of the hot air balloon rodeo, head over to Steamboat Springs Arts Council's Art in the Park.  9am-4pm at West Lincoln Park (right outside the Arts Depot).  This event hosts fabulous artisans from around the country who travel to Steamboat bringing their gorgeous goods with them.  Browse around the mini booths and galleries and enjoy live dance performances, music and (my kids' favorite) the amazing children's area.
And my personal (and admittedly most random favorite) - the baked potato races!  You must see it to believe it.
And it's another day in paradise.  My potato is waiting.  Again, click on the chamber web site for all of the details on these events happening on both Saturday & Sunday. And please feel free to post your own awesome photos from Steamboat on either our facebook page or on We Love Steamboat.